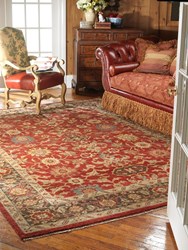 New York, New York (PRWEB) December 20, 2013
Maintaining a favorite rug can be a challenge; dirty shoes, sun exposure, foot traffic, food stains, and the winter season's snow and salt can all be culprits that wreak havoc on interior decorating pieces in home décor. Kalaty Rugs, a leading area rug manufacturer out of New York, offers several tips when caring for home area rugs. By focusing on maintenance with these 5 tips, homeowners can maintain and keep their rugs looking as good as new.
Farshad Kalaty, of Kalaty Rugs, offers 5 critical tips for caring and cleaning a home's rug:
1. Rug Rotation
Rugs are often the focal point of a room. High traffic and sun exposure can cause rugs to quickly fade and cause damage to the dyed fibers used in the area rug. To combat this, frequently rotate a rug away from sun exposure and add window shades or curtains to reduce the possibility of sun damage. Even when it may be inevitable that a rug will be vulnerable to sun exposure, making sure the exposure is even will help the overall look of the rug.
2. Rug Padding
The life of an Oriental rug can be doubled when used with a high quality rug pad underneath. Rug padding protects rugs from high traffic and also keeps the rug flat, making vacuuming and cleaning easier. By utilizing a pad, the rug's life will be extended by helping reduce the impact of feet or the weight of heavy furniture placed on it.
3. Moth Protection
Moths and their larvae thrive in dark, undisturbed areas where a rug gets little traffic and is not often vacuumed. A bad infestation can damage a rug because the damaged area would need to reweave the section of the rug. To prevent moths, spray both the front and back of the rug with a protectant spray every six months or more or less depending on the location of the rug.
4. Vacuuming
While vacuuming and keeping a clean rug is positive maintenance, never vacuum against the nap of the rug. Vacuuming against the nap of any type of rug can make the rug dirtier by pressing the dirt back into the rug. Never vacuum the fringe because the suction of the air could pull the fringe off.
5. Stain Care
Maintaining a rug with no stains can sometimes feel near to impossible. If the inevitable stain does occur, practicing diligent and quick stain removal procedures are important when getting a stain out of the fibers of the rug. Build a stain removal kit in your house with: dry cleaning fluid, clean cloths, white vinegar, mild detergent, alcohol, sponges, brushes, and a weak ammonia solution. Visit the rug care section of our site where we provide the appropriate solution for common stains.
Visit http://www.kalaty.com/rug-care-guide.htm for all of Kalaty's rug care suggestions.
About Kalaty Rug Corporation
Kalaty Rug Corporation is a family business that has been setting the gold standard for area rugs for generations. Highly respected for its superior quality handcrafted rugs, the company has built a reputation for its ability to combine color and design to create a broad range of area rugs that portray "Tradition for Today." Kalaty operates showrooms in New York City, Atlanta and High Point. Visit http://www.kalaty.com to find a local dealer of Kalaty rugs.