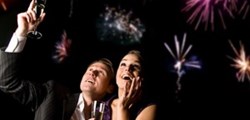 From family-friendly to adults only, we wanted to showcase events in Gatlinburg that everyone could enjoy.
Gatlinburg, TN (PRWEB) December 19, 2013
Still trying to decide on your resolutions for the upcoming year? Before you decide, Gatlinburg has exciting New Year's Eve events planned to celebrate the ending of another year. Jackson Mountain Homes has created a list of the top New Year's Eve events in Gatlinburg.
"From family-friendly to adults only, we wanted to showcase events in Gatlinburg that everyone could enjoy," said a spokesperson for Jackson Mountain Homes. "Guests to the area can dance with the sharks or celebrate like a local with this diverse list we've created."
First on the list is the 26th annual New Year's Eve Ball Drop and Fireworks Show. This free event, hosted by the City of Gatlinburg, is in downtown Gatlinburg at the Space Needle. At midnight, the illuminated ball drops, signaling the launch of the fireworks show. Jackson Mountain Homes recommends those attending to arrive early because there will be musical acts as well.
Visitors to the area who want to see the fireworks without braving the cold are invited to the New Year's Eve party at Blaine's Grill and Bar. Blaine's offers four packages, from general admission, with a champagne toast and party favors, to a premier dinner, with a bottle of champagne and reserved seating to eat a gourmet meal.
Another of the annual events in Gatlinburg is the Ripley's Aquarium of the Smokies' 14th annual Dance with the Sharks New Year's Eve party. They will have live music, a gourmet buffet and a champagne toast. The event begins at 9:00p.m.
Another local favorite, Three Jimmy's will be hosting a New Year's Eve party with live music. For $40.00 per person, guests will have the choice of smoked prime rib or champagne chicken. Guests who want to enjoy the music and toast at midnight without a meal pay $15.00 per person.
For those attending any of these events in Gatlinburg, Jackson Mountain Homes has a variety of cabins, chalets and condos in the Smoky Mountains. To see a list of their exclusive vacation rental inventory, visit their online cabin rental search.
Celebrating 18 years of bringing families the perfect Smoky Mountain vacation, Jackson Mountain Homes provides only the finest Gatlinburg cabins and Gatlinburg chalets. Long-time friends and owners Michael Anderson and A.J. Bland pride themselves on the highest quality accommodations and service to each guest, owner and prospective owner to visit Jackson Mountain Homes. Jackson Mountain Homes' office is located next to the Old Gatlinburg Crafts District at 1662 East Parkway. For additional information on Jackson Mountain Homes, visit their website at http://www.jacksonmountainhomes.com, or give them a call at 1-866-518-0498. Office hours are 9 a.m.-5:30 p.m.