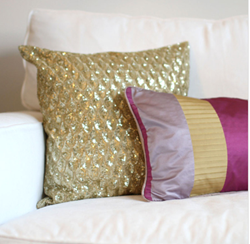 New York, NY (PRWEB) December 19, 2013
Glitter and glam are New Year's Eve staples, but glittery accents are making their way into the newest home décor trends for year-round sparkle. Whether it's silver or gold, there are easy ways to add a pop of pizzazz to any home.
Start with the basics. If a lot of glam seems intimidating, go to the smallest accessories first. Candles are an easy and inexpensive way to make minimal, yet noticeable changes to current décor. Add a few glittery candles to dining, coffee, or end tables for an instant decorative boost. Also try replacing small accents like napkin holders, dish towels and coasters with gold, silver, sequins, or sparkles. Adding these simple touches can bring any room to life.
Looking to make a bold statement? Make some major décor changes. Replace current curtains with shimmery silk or faux silk panels. Use curtains like Eclipse Curtains that are fashionable, but also functional with blackout qualities. If the existing curtains are a must, add a layer of shimmering sheers to make the color pop. For an even bigger statement, try painting one wall in a favorite room a sparkly silver or gold hue. Leave the other walls neutral to keep the room feeling spacious. Play off the vibrant wall with matching accents to bring the look together.
Sequins have been known to get a bad reputation, but sequin-covered throw pillows or blankets with a faux sequin appearance are the perfect accessories. Toss them onto a solid couch to make a statement, or add them to the bedroom to bring the décor to life.
For more tips and tricks, and to hear about upcoming sweepstakes, visit Homestyle Brands.