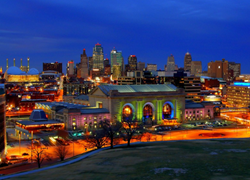 Kansas City made the Lonely Planet list of the Top 10 U.S. Destinations for 2014.
Jefferson City, Mo. (PRWEB) December 20, 2013
If you're looking for an award-winning getaway, start planning your trip to Missouri.
During this about-to-be-wrapped-up year, the Show-Me State's tourism assets made dozens of best-of lists awarded by regional, national and international publications and organizations. These destinations and attractions make it easy to enjoy the show on your Missouri vacation.
Earning a variety of accolades appeals to the VisitMO.com staff's humble nature because it means we don't have to brag about our favorite state. Someone else will do it for us.
Just in case you missed the messages about Missouri's greatness, here's a look at a selection of the many honors bestowed on the Show-Me State in 2013.
People from across the state, and the Midwest, utilize the vast outdoor resources in America's "Best Trails State" – an honor conferred upon Missouri by the American Trails organization. In fact, more than 12,000 people have logged more than 1 million miles on Missouri trails as part of Gov. Jay Nixon's 100 Missouri Miles challenge. One of Missouri's most popular trails destinations is Katy Trail State Park; at just over 237 miles, it is the longest rails-to-trails conversion in the U.S.
Missouri's capital, Jefferson City, was named the "Most Beautiful Small Town in America" as part of Rand McNally's Best of the Road series. Picturesque views of the Missouri River valley and the stunning Capitol are frequently cited among the city's most-beautiful attributes. With the Capitol's history museum, historic sites and convenient access to the above-mentioned Katy Trail – and delicious ice cream at Central Dairy – return trips to Jefferson City offer new experiences each time.
Roller coaster enthusiasts surely have fond memories of a trip to Branson to experience Silver Dollar City's Outlaw Run roller coaster in 2013. Amusement Today presented Outlaw Run with the prestigious Golden Ticket award as 2013's "Best New Ride" (one of eight honors for Silver Dollar City). Because it's an international competition, you can summarize Outlaw Run this way: best new ride on planet earth. Silver Dollar City has been lauded as one of 10 Great Theme Parks for the Holidays.
Kansas City, Missouri's largest city, earned several honors from a variety of media outlets and organizations in 2013. Among the awards on which the city can hang its collective hat is being ranked the No. 1 U.S. city for an affordable getaway by Travel+Leisure.
Also, Kansas City made the Lonely Planet list of the Top 10 U.S. Destinations for 2014. The travel-focused website notes Kansas City is a top choice for a variety of reasons, including its barbecue restaurants, live jazz music, and attractions such as Country Club Plaza and the National World War I Museum at Liberty Memorial.
And, in a development that stunned almost no one, Kansas City was named among the Best Barbecue Cities in the U.S. by Food and Wine magazine.
Across the state, Missouri's second-largest city, St. Louis, also racked up a slew of honors. St. Louis was named one of the Top 25 Romantic Cities in the U.S. (No. 9 to be precise) by OpenTable.com, and the Three Sixty Rooftop Bar (at the Hilton St. Louis at the Ballpark) was named on Frommer's list of the Top Best Hotel Rooftop Bars Around the World. Coincidentally, St. Louis was named as one of Food and Wine's top cities for barbecue.
Need more proof Missouri is awesome? Here are more Missouri honors, including some designations that might catch you by surprise.
For example, did you know Ava (population 3,000) was named one of the "Nine Great Places You've (Maybe) Never Heard Of," by Mother Earth News? Of course you didn't, but it's true. Mother Earth News bills itself as "America's leading magazine about sustainable, self-reliant living." The publication notes, "…Ava is surrounded by forests, streams and spectacular natural beauty. The town offers no big-city amenities, but is a welcoming community."
With nods toward their respective family fun options, shopping, live shows and outdoor recreation, the Lake of the Ozarks area and Branson both made the FlipKey.com (a division of Trip Advisor) list of the Top Midwest Travel Spots.
Meanwhile, Bonne Terre Mine, representing the U.S., was named among the World's Top 10 Diving Resorts (coming in at No. 3) by Fox News. In securing its lofty status as a scuba diving destination, Bonne Terre Mine was listed ahead of several far-flung resorts, including those found in Italy and Australia.
In northern Missouri, Hannibal and the Great River Road – paralleling the Mississippi River – were mentioned among the top 10 Fall Foliage Road Trips in the U.S. by TravelChannel.com.
To the south, Johnson's Shut-Ins State Park, which features a collection of carved-in-rock swimming holes formed by the flow of the Black River, was named among the best Top-Secret Swimming Holes by USA Today. It's unlikely the site will earn that honor again, as it's no longer a secret.
Golfers should delight in knowing five Missouri courses were listed among Golfweek's Best Courses You Can Play (courses open to the public) in 2013. Those courses include Payne Stewart, Ledgestone and Murder Rock, all in Branson; Branson Creek in Hollister; and Shoal Creek in Kansas City.
Also in Missouri, you find one of the country's 51 Great Burger Joints, Schindler's Tavern in New Hamburg, according to the folks at USA Today; and a great place to settle down, Ballwin, made Money Magazine's Top 50 Best Places to Live list in 2013.
Missouri had several top honorees in AAA Midwest Traveler magazine's Best of the Midwest edition. Among the winners were: Memorial Stadium at the University of Missouri in Columbia, which was named the Best Place to See College Football in the Midwest; Ameristar Casino in St. Charles, named the Best Casino in the Midwest; and the World Series of Barbecue at the American Royal in Kansas City, named as the region's Best Food Festival.
And the folks at Midwest Living showered Missouri with love in their Best of the Midwest publication. Among the dozens of locations mentioned were Sandstone Gardens in Joplin (shopping); Aviary Café and Creperie in Springfield (dining); and Independence (great trip for history buffs). Among those mentioned in a variety of other best-of categories were ASL Pewter in Louisiana, the Route 66 Museum and Research Center in Lebanon, Pony Express National Museum in St. Joseph, My Daddy's Cheesecake in Cape Girardeau, Mark Twain Cave in Hannibal, Hermann Wine Trail in Hermann, The District in Columbia, and Yates House Bed and Breakfast in Rocheport.
There you have it … a look at some of the Missouri cities, destinations, attractions and events that earned honors in 2013. With the new year fast approaching, we look forward to seeing which outlets add Missouri to their best-of compilations in 2014.
Learn more about the Show-Me State online at VisitMO.com, the official travel website of the Missouri Division of Tourism. Start planning your next getaway today at VisitMO.com and be sure to visit some of the destinations that made best-of lists in 2013.
About the Missouri Division of Tourism
The Missouri Division of Tourism (MDT) is the official tourism office for the state of Missouri dedicated to marketing Missouri as a premier travel destination. Established in 1967, the Missouri Division of Tourism has worked hard to develop the tourism industry in Missouri to what it is today, an $11 billion industry supporting more than 281,000 jobs. For more information on Missouri tourism, go to http://www.VisitMO.com.