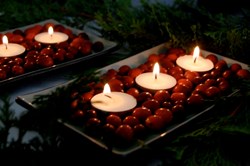 New York, NY (PRWEB) December 19, 2013
Decorating for the holidays can be expensive and slightly daunting, especially because taking down those decorations after the fun-filled holidays can be time-consuming. Instead of going all out this holiday season, just make a few holiday adjustments to your existing décor for a festive look without the fuss.
Take any plate and add tea lights down the center. Then surround those tea lights with household items that make anything more festive. Add cranberries, small ornaments or pieces of Christmas tree to make an instant holiday dinner centerpiece.
Currently use throw pillows on the couch, or decorative pillows on the bed? Tie ribbon around the pillows like a wrapped present. The pillows instantly go from a comfy accessory to festive holiday décor.
Take a needle and thread and attach a string of jingle bells to a snuggly throw blanket and drape it over the couch. Allow the family to keep warm while jingling along with the holiday spirit. Insulated blankets like ComfortTech Blankets are the perfect way to keep the family warm all winter, and are sturdy enough to withstand a few holiday accessories.
For more information or tips, visit Homestyle Brands.