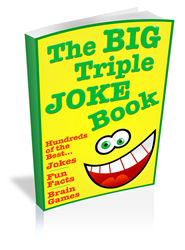 The cream-of-the-crop, most hilarious short jokes available.
Ottumwa, Iowa (PRWEB) December 20, 2013
Fresh off the introduction of their 'The Top Insults' book, Full Sea Productions has announced the publication of its expansive, new 178 page e-book filled with jokes, fun facts, and riddles.
According to Full Sea Productions, the book is the result of a painstaking review of tens of thousands of great classic jokes and totally new joke material to find the most humorous jokes to include in the new joke book. The process of selecting the best jokes and riddles to be included in the book included several rounds of elimination before the final selections were made. The review process was performed over a period of two months.
'The BIG Triple Joke Book' has over one thousand funny jokes, fun facts, and riddles that are suitable for all ages. The book is also the first joke book designed to be 'social networking' friendly. Each joke and riddle included in the book is suitable in length and content for easily sharing via Facebook, Twitter, or any other social media sharing site.
'The BIG Triple Joke Book- 1,289 Funny Jokes, Fun Facts & Brain Teaser Riddles!' is available from Amazon and can be downloaded to any Kindle reader.