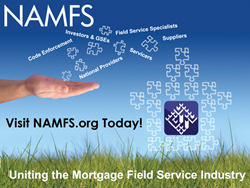 Stow, OH (PRWEB) December 27, 2013
The National Association of Mortgage Field Services (NAMFS) will hold its annual Leadership Summit and Open Forum on March 19-20, 2014 in Fort Worth, TX. This year's event is designed to encompass two full days and allow discussion on several new solution focused initiatives offered by the Association. As a result of these events, NAMFS will be focusing on several exciting initiatives intended to benefit not only our members but the entire Mortgage Field Service Industry throughout 2014. Our attendees will include ~100 National and Regional Field Service Companies specializing in all aspects of the industry from inspections through disposition.
The 2014 NAMFS Leadership Summit event will be hosted on Wednesday and will be attended by the NAMFS Board, Committee Chairs and Board-Invited companies. Topics covered will be more strategic in nature as the Board looks to validate and obtain feedback on current and future initiatives. The dynamic discussion throughout the day will lead to the identification of several potential solutions to challenges within the industry and will be integral in the establishment of the direction of the Association in the coming years.
In an effort to obtain increased industry feedback, NAMFS will host an Open Forum for members. The intent of the event is to enable open discussion regarding industry related issues and concerns. The focus will be on obtaining a solution rather than just airing a grievance. NAMFS recognizes that dialogue is imperative and sees the opportunity to discuss potential solutions at the same time as a much more positive and constructive approach. NAMFS uses this event along with several other outreach methods each year to support its members providing inspections and other related services.
About NAMFS
The National Association of Mortgage Field Services (NAMFS) is the premier trade association for the mortgage field service industry. We are dedicated to working with all entities of the industry from the Government Agencies and investors that set policy to the contractors and inspectors that perform the work.