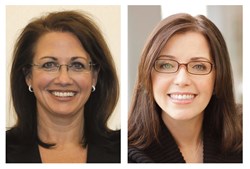 Three hundred senior executives in the retail and consumer goods sector are expected to attend the invitation-only Forum.
Chicago, IL (PRWEB) December 22, 2013
Vicki Felker, vice president of pet specialty, customer development group for Nestlé Purina PetCare, and Barbara Walker, senior vice president, consumer marketing for Safeway Inc., will serve as co-chairs of the NEW Executive Leaders Forum 2014, July 29-31 at the Terranea Resort outside Los Angeles. Three hundred senior executives in the retail and consumer goods sector are expected to attend the invitation-only event.
"As a NEW Board member at-large, Vicki has shared her innovative ideas and passion for advancing women in the industry," said NEW Forum designer Trudy Bourgeois, CEO and Founder of The Center for Workforce Excellence. "She epitomizes the theme of this year's NEW Forum: 'Power. Influence. Impact.' When she pours her energy into a project, things happen, and I'm looking forward to working with her shaping the NEW Forum programming."
Bourgeois said, "Barbara Walker's talent for delivering a message in a powerful way will influence the way the NEW Forum delivers on its goal to provide senior executives inspiration and insights to strengthen their leadership skills and leverage the talent around them," Bourgeois said.
During her 27 years at Nestlé Purina PetCare, Felker developed expertise in leading and managing organizational change, strategic planning and building a high-performance culture. She served three terms as the president of Nestlé Purina's Women's Leadership Forum, whose mission is to positively influence the organization's culture and support the development of a diverse workforce to drive business results.
At Safeway, Walker is responsible for the integration and activation of all consumer-facing communication. She leads brand strategy and creates shopper-relevant communication solutions and integrated channel activation in broadcast, print advertising, direct mail, public relations and digital.
About the Network
The Network of Executive Women is the retail and consumer goods industry's largest diversity organization, with more than 8,000 members representing 700 industry companies. The Network has 98 national sponsors and 20 regional groups in the United States and Canada. It hosts dozens of local events and two national conferences each year. For more information visit http://www.newonline.org.