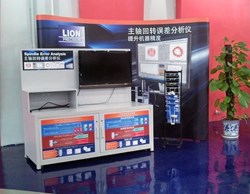 St. Paul, Minn (PRWEB) December 21, 2013
China's growth in high-tech and precision manufacturing has provided tremendous opportunity for U.S. manufacturers willing to overcome the inherent obstacles. Lion Precision, a Minnesota-based manufacturer of noncontact displacement sensors, has had a presence in China for several years but has recently increased it significantly.
As a member of AMT-China (Association for Manufacturing Technology) in Shanghai, Lion Precision now has a permanent stand at the AMT Center. The stand features a working demo of their industry-leading Spindle Error Analyzer (SEA). Error motions in precision machine spindles cause errors in the parts created by a machine. SEA measures the error motions of precision machine spindles with nanometer precision. These measurements indicate to machine operators and maintenance personnel when the machine spindle may need rework and what parts the machine is capable of producing reliably.
Lion Precision has added technical representation in China which is now responsible for nearly15% of sales. The new Japan Technical Center will provide technical support and calibration services much more conveniently for their Chinese customers. Previously, engineers, machine designers, researchers, and manufacturers in China in need of precision noncontact displacement sensor technology had to fight the language and time-zone barriers of working with U.S. companies. Now they can work with local representatives and experts to help select and acquire this technology and associated products.
In 1958, Lion Precision was the first company to provide capacitive noncontact displacement sensors to industry. The company has expanded its product offering to include eddy-current displacement sensors and some application specific sensors for the machine tool, packaging and PCB industries. Lion Precision is focused on assisting users in sensor implementation by providing technical knowledge resources, expert guidance and optimized systems including custom designs.
For more information, contact Lion Precision:
Lion Precision
563 Shoreview Park Road
St. Paul, MN 55126 USA
651-484-6544
http://www.lionprecision.com
info(at)lionprecision(dot)com