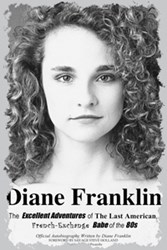 "Better off Dead was one of my favorite movies of all time," Haley said. "It was so cool to chat with her about her experiences as an actress." Diane Franklin
Lincoln, NE (PRWEB) December 20, 2013
The Simply G Media Network today announced the release of a recent interview on December 19th, with celebrity 80s teen star Diane Franklin on The Total Education Celebrity Show with host Neil Haley, the Total Tutor.
Neil Haley, The Total Tutor and host of the Total Education Celebrity show, interviewed Diane Franklin to find out how she began as an actor, and her experiences in the movies.
Franklin, best known for her role as one of the princesses in the Bill And Ted films, started her career by appearing in TV commercials for Coca-Cola, Trident, Jell-O, and Maxwell House coffee. Her first film role was in the 1982 film The Last American Virgin as Karen. Her acting resume also includes roles in the 1982 horror film Amityville II: The Possession as Patricia Montelli and the 1985 comedy film Better Off Dead as Monique, the foreign exchange student from France.
"Better off Dead was one of my favorite movies of all time," Haley said. "It was so cool to chat with her about her experiences as an actress."
In the interview, Franklin explained that she always wanted to be an actress and that she started modeling at 10 years old. She revealed that she stopped modeling, not because she wanted to but because she was not tall enough. This lead to Franklin making the switch to commercials where she took roles along with other famous teen stars.
Franklin said her big break came when she landed a role on the soap opera As the World Turns playing a character who got pregnant and hid her birth control pills. As Franklin recalls, this was a great learning experience for her.
In addition, Haley asked some intense questions, including whether or not Franklin's parents were happy with her career choice, to which she responded, "My parents supported me in what I wanted to do. They were proud of me."
Her first feature film, Last American Virgin, almost didn't get released. "We were not going to get distribution," said Franklin. "We thought, Who knows who will ever get see this film." Today, Last American Virgin is considered a cult classic.
When asked if she considers her character in Better Off Dead her biggest role, Franklin said, "I hope I will be remembered in that role the most. That movie created the kids shows 'iCarly' and 'The Amanda Show.' Also, that movie is hilarious."
"Classic movies like Better Off Dead help remind you of high school in the 80s, something many of us can relate to and enjoy," said GJ Reynolds, CEO of The Simply G Media Network. "These movies can really make you laugh."
You can purchase Diane's book by clicking here. http://www.amazon.com/Diane-Franklin-Excellent-Adventures-French-Exchange/dp/0615641369. You can listen to the interview now by clicking here http://beachlifestyle.com/beachlifestyle-radio-show-diane-franklin/#.UrMxOLT_OfQ.