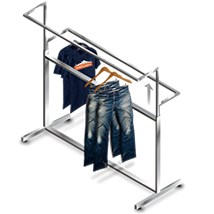 Des Plaines, IL (PRWEB) December 21, 2013
Specialty Store Services continually searches for products that will provide the retailer with new ideas and options for displaying more products in less space or having the ability to move from place to place. The New Catalog will be released and in mailboxes on or before December 23rd. The Catalog will feature New Mobile Displays, Apparel Rack and a New Custom Shop.
The New Double Apparel Rack features a unique contemporary design that gives the retailer the flexibility to display a wide variety of apparel items. This display rack gives the retailer the option to have dresses and pants all on one rack giving the retail a bang for the buck. The display features a chrome plated square tubing with two adjustable hang bars that can be adjusted from 40 inches to 57 inches in height. This unit retails for $89.99.
Another new product that we are proud of is the Folding Portable Grid Display. This product is great for the Crafter or Jewelry/Clothing Designer that goes from Show to Show selling their items. This display is lightweight and folds easily and fits into a nylon bag for easy transport. It has an easy set up and take down with no need for tools. Simply release pin locks and fold the grid panel in half, remove the legs and store in the nylon bag. The Folded dimension is 35 ½ inches high x 23 ½ inches wide x 1 ½ inches deep. The overall dimensions are 47 ¼ inches high x 23 ½ inches wide x 18 ½ inches deep. This unique one of a kind item retails for $59.99.
Lastly we have added a new Custom Shop to our already vast array of business services to help the retailer. The New Custom Shop is giving the retailer an opportunity to design their own signs that they would like in their stores. We have the ability to make Banners and Posters as well as Adhesive Signs for Window and Doors. As well we have Custom Signage Packages that include the Signs and Sign Holders. Our New Custom Shop has an Introductory Offer- Free Design a value of $100.00. Our Custom Signage will never have a Set Up Fee, Low Pricing, Fast Shipping and Quick Turnaround.
Specialty Store Services listens to its customers and is always pleased to take suggestions for any products that will help business owners operate thriving and profitable retail stores.
About Specialty Store Services
Specialty Store Services, a second-generation family owned business, offers everything necessary to operate a thriving retail store, from logistical solutions and retail supplies to custom and stock fixtures. Over the last 25 years this service-driven company has cultivated relationships with global partners while developing the expertise and knowledge required to provide competitive prices, outstanding customer service and quality products.