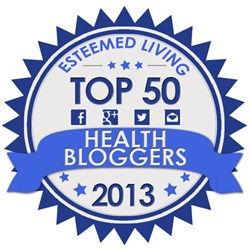 Esteemed Living knows what matters most to its audience. The Top 50 Health Bloggers list is a reflection of the best writers in the industry.
Dallas,TX (PRWEB) December 21, 2013
Esteemed Living Magazine focuses on promoting vibrant, healthy lifestyles in the baby boomer generation, but it's elements span across all age groups. The Esteemed Living Top 50 Lists are topics, services, and products chosen by the Esteemed Living community. The Top 50 Lists reflect the various audiences the magazine reaches out to and what they find most interesting. This weeks Top 50 List reflects the staffs choice for the best health related bloggers in the industry.
Esteemed Living Top 50 Lists are topics, services, and products chosen by the Esteemed Living community. Customers can suggest ideas for their own lists through the voting system. Ranking is determined by the number of votes through email and on various social sites such as twitter, facebook, and google+. Once a list is generated and each entry receives a certain amount of votes, the list will be posted here and can be shared across the web.
Esteemed Living is passionate about not only providing vital information, but inspiring readers to think about life in refreshing, more exciting ways and the Top Choice Lists encompass that goal. In the newest list Esteemed Living has complied the top health bloggers in America Robin Ball, Managing Editor Esteemed Living at says, "The newest staff generated list is a way to connect and make our Esteemed Living family aware of all the incredible resources freely available to them. These bloggers have been the leading voices in the health community, focusing on topics such as fitness,medicine,healthcare,and nutrition".
Esteemed Living Magazine is the newest health and lifestyle magazine for the 50 plus age market. Esteemed Living provides informative articles that focus on things that are pivotal to the senior community.To see you favorite blogger in the health industry to be added to the list submit their name by choosing "list your website" at the top right hand corner of the list. All submissions have to be be voted up by fans through social media to make it to the top.
http://esteemedliving.com/votingsystem/?list=Top-Health-Bloggers