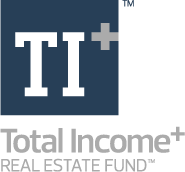 New York, NY (PRWEB) December 19, 2013
"We believe it is the right time to increase our distribution rate as we are now significantly larger, the Fund is allocated to a diversified group of targeted, institutional, private equity real estate securities and we feel that we have validated our model through our year one performance", said Ramin Kamfar, Bluerock's Chief Executive Officer.
Under its new policy, the Fund expects to make regular, quarterly distributions at an annualized rate equal to 5.25%, based on net asset value per share as of the ex-dividend record date at the end of the quarter. The level of quarterly distributions is not fixed and all or a portion of each distribution may constitute a return of capital for tax purposes. There is no assurance that the Company will continue to declare distributions or that they will continue at these rates.
The Total Income+ Real Estate Fund invests the majority of its assets in institutional private equity real estate securities that generally were available only to institutional investors capable of meeting the multi-million dollar minimum investment criteria. As of the end of the fourth quarter, the value of the underlying real estate held by the securities in which the Fund is invested exceeded $26 billion, including funds managed by Blackrock, Clarion Partners, and RREEF, among others. The minimum investment in the Fund is $2,500 ($1,000 for retirement plans).
For copies of TI+ public company filings, please visit the U.S. Securities and Exchange Commission's website at http://www.sec.gov or the Company's website at http://www.BLUEROCKFUNDS.com.
About Total Income+ Real Estate Fund
The Total Income+ Real Estate Fund offers individual investors access to a portfolio of institutional real estate securities managed by top-ranked fund managers. The Fund seeks to provide a comprehensive real estate holding designed to provide a combination of current income, capital preservation, long-term capital appreciation and enhanced portfolio diversification with low to moderate volatility and low correlation to the broader equity and fixed income markets. The Fund utilizes an exclusive partnership with Mercer Investment Management, Inc., the world's leading advisor to endowments, pension funds, sovereign wealth funds and family offices globally, with over 3,000 clients worldwide, and $6.6 trillion in assets under advisement.
Investing in the Total Income+ Real Estate Fund involves risks, including the loss of principal. The Fund intends to make investments in multiple real estate securities that may subject the Fund to additional fees and expenses, including management and performance fees, which could negatively affect returns and could expose the Fund to additional risk, including lack of control, as further described in the prospectus. The Fund's distribution policy is designed to generate distributions equal to an annual rate of 5.25% of the Fund's current net asset value per share. Shareholders should note that return of capital will reduce the tax basis of their shares and potentially increase the taxable gain, if any, upon disposition of their shares. There can be no assurance that any investment will be effective in achieving the Fund's investment objectives, delivering positive returns or avoiding losses.
Investors should carefully consider the investment objectives, risks, charges and expenses of the Total Income+ Real Estate Fund. This and other important information about the Fund is contained in the prospectus, which can be obtained by calling 888-459-1059. The prospectus should be read carefully before investing. Bluerock Fund Advisor, LLC is not affiliated with Northern Lights Distributors, LLC. 3090-NLD-12/17/2013