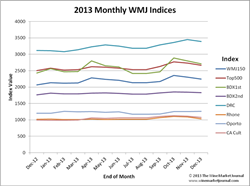 "If Asian demand continues to decline, this trend will likely continue," says Parker.
San Francisco, CA (PRWEB) December 19, 2013
The Wine Market Journal has noticed a recent downward swing in wine auction pricing due to trends in the Asian market. The auction valuation company will continue to watch auction results closely through the end of the year. But with only one major wine auction remaining, it is safe to say that a decline is evident.
The Wine Market Journal has been the leading resource for wine auction pricing and tracking since 1997. After the Acker Merrall & Condit Company's auction in New York, the data reporting company will use these results for its first 'state of the industry' report in January 2014.
"We have seen continued signs of market weakness in the last two months at auction and will closely monitor this to determine if it is part a long-term trend or if we see renewed strength in the new year," says David Parker, President of First Growth Technologies, which publishes The Wine Market Journal. "If Asian demand continues to decline, this trend will likely continue. However, if the Asian market rebounds in spring, we could expect a strong 2014."
The First Growth Bordeaux index (BDX1st) has seen a 6 percent drop since October after an 18.9 percent gain from January through October. Despite this plummet, BDX1st showed a strong 11.6 percent increase in 2013. When Hong Kong, China, auctions were removed from the equation, BDX1st saw a modest 2.4 percent drop from the end of October. The erratic nature of the index confirms that First Growth Bordeaux has yet to hold stability in the market.
The Wine Market Journal's Rhone and California Cult Cabernets and Proprietary Blends (CA Cult) indices revealed a worldwide trend declining 6.6 percent and 4.4 percent relatively from the end of October. While the Rhone index has remained flat for the year, CA Cult has shown an 8.3 percent increase for the year.
The Domaine de la Romanée-Conti (DRC) index has continued its upward movement since 2012, with the exception of a slight downturn in early December results. When excluding Hong Kong auctions from the analytics, the DRC index shows a 5.6 percent gain from end of October, the only index to reflect such a dramatic increase. The Hong Kong market continues to show instability for fine Bordeaux and Burgundy.
As an important footnote to the fine wine auction market, The Wine Market Journal's blue-chip indices, WMJ150 and Top500, continued an upward trend in 2013. The WMJ150 showed a decrease of 4.8 percent from October. However, when removing Hong Kong auction trades, a more modest 2.4 percent decrease was reflected. Posting significant increases annually, the WMJ150 and Top500 grew 8.8 percent and 6.7 percent respectively.
"First Growth's sister companies, Benchmark Wine Group and Brentwood Wine Company, are still seeing strong demand from retail and Internet auction buyers in both the United States and worldwide," says Parker.
Even though this downward trend is evident in auction pricing, wine retail and ecommerce remain strong. Consumers are either finding other recourses outside of wine auction houses to purchase fine wine, or 2013 fourth quarter wine auction pricing is a temporary market downturn as was seen in 2012.
About Wine Market Journal:
The Wine Market Journal ( http://www.winemarketjournal.com) is the rare wine market's largest and most complete source of auction valuation information, and is used by virtually all auction houses and serious collectors. First Growth Technologies also provides a full suite of appraisal and cellar services for wine collectors and industry partners through its CellarPros brand (http://www.cellarpros.com). CellarPros has a nationwide presence, offering industry leading resources to the private collector in need of appraisal, management, logistics or brokerage assistance.