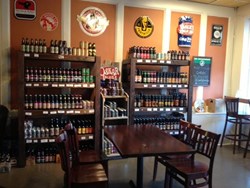 Raleigh, NC (PRWEB) December 20, 2013
Leading commercial furniture distributor, Restaurant Furniture Supply recently helped Crafty Beer Shop in Raleigh, NC restaurant successfully open their new business.
Crafty Beer Shop is a bar and beer retailer in Raleigh, that recent opened their business in Raleigh, NC. Crafty Beer Shop carries the best of national and international craft beer, while keeping a focus on the North Carolina beer offerings. They have 8 different beers on tap at all times, rotating stock and access to the best beers in NC and the world. They sell all of our beer by the bottle so customers can feel free to choose what they want. Crafty Beer shop has the neighborhood feel of a relaxing coffee shop vibe, and they offer free wi-fi. They also sell wine and offer customers a glass of wine from their rotating wine offerings. They also strive to support the local community and offer local snack items, display local artists work, and often feature local musicians. Crafty caters to the new customer to the craft bee scene as well as craft beer veterans.
"The owners contacted to Restaurant Furniture Supply for new restaurant chairs, bar stools and tables because of their reputation for high quality at competitive prices", explained sales person Zach. For seating, he decided to go with Restaurant Furniture Supply's Vertical Slat Wood Chairs and matching Vertical Slat Wood Bar Stools in mahogany wood finish with solid wood seats. The Vertical Slat Wood Chairs are currently on sale at Restaurant Furniture Supply for $56 and the Vertical Slat Wood Bar Stools are on sale for $80. They are available in 5 standard finishes. The chairs and bar stools come with the option of a solid wood seat or a padded seat made with American made foam and fabric. A custom finish can also be made for an additional fee and the padded seats can be made of any material.
For table tops the owner decided to go with solid wood table tops in dark mahogany finish in eased edge in sizes 24"X24" which sell for $65 and 30"X48" which sell for $142.25. The solid wood tabled tops also come in a bullnose edge for an additional fee. He chose X-prong table bases to go with them, which start at just $24.
The solid wood chairs, bar stools and solid wood table tops are made in the USA from FSC (Forest Stewardship Council) Certified wood harvested in the Midwest. "Restaurant Furniture Supply is committed to being a responsible corporate citizen and helping protect the environment as well as provide jobs to Americans" says Zach. "That is why we recently moved our facilities to the US".
Browse Restaurant Furniture Supply's full selection of commercial grade chairs, bar stools, table tops, table bases, booths and patio furniture at http://www.restaurantfurnituresupply.com or talk to a customer service representative at (888) 346-9992
Crafty Beer Shop is located at 2003 Fairview Rd., in Raleigh, NC. They can be contacted at: (919) 615-3008.