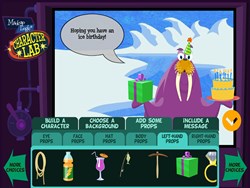 The Character Lab app promotes creativity by allowing users to translate thoughts into fun visual images.
Tampa, Florida (PRWEB) January 09, 2014
Madcap Logic is known for developing fun, innovative educational products that help kids achieve a new understanding of the visual world around them. Their second App release 'Character Lab' further defines the company's mission with an innovative approach to messaging. 'Character Lab' is a creative new game that lets kids assemble their own characters to make funny messages for their friends.
Fun for children and adults, 'Character Lab' allows for manipulation of characters, props and settings to create unique images that tell amusing stories. Users pick one of five characters, then choose the right body, head, eyes, mouth and color to make theirs unique. Silly props and dress-up costumes add to the story. Thousands of combinations can be created to show off individual style. The right background finishes the picture, and users can add a clever message. The finished image may be sent by email, posted to Facebook or to a Twitter feed.
'Character Lab' was developed in conjunction with Madcap Logic's award-winning online art education program 'Creativity Express'. Both platforms are focused on developing children's individual artistic voice through interactive activities and lessons. The animated characters in Creativity Express and Character Lab provide instruction and entertainment to children, thereby emotionally engaging them in the learning process.
Character Lab is available in the App Store.
About:
Madcap Logic was founded in 2003 by former animators from The Walt Disney Company with a vision to re-define Art Education.
Collaborating with professional educators they produced Creativity Express, a multi-award winning online curriculum that meets the National Standards for the Visual Arts. Sixteen cross-curricular lessons teach the elements and principles of art, with an added focus on empowering kids' inner creativity, imagination and critical thinking skills.
Madcap Logic's first App release 'Start With Art!' contains the first four introductory lessons of Creativity Express, and is best suited for ages 7-97. 'Start With Art!' has been accepted into the Google Play for Education Initiative. It is available in the App Store and on Google Play.