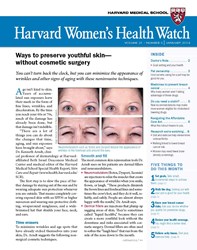 If you take five years of breast cancer prevention medication, you're left with a permanently reduced risk of breast cancer. -- Dr.Paul Goss, director of breast cancer research at the Massachusetts General Hospital Cancer Center
Boston, MA (PRWEB) January 17, 2014
Many new and potent medicines to prevent breast cancer have become available in the past 20 years. Surprisingly, many women—even those at high risk for the disease—are not taking advantage of these medicines, according to an article in the January 2014 issue of the Harvard Women's Health Watch.
Drugs such as tamoxifen (Nolvadex), raloxifene (Evista), and exemestane (Aromasin) can reduce the odds of developing breast cancer for many women at high risk of developing breast cancer. "These drugs have been shown to prevent the occurrence of invasive and pre-invasive breast cancers," says Dr. Paul Goss, director of breast cancer research at the Massachusetts General Hospital Cancer Center. "It isn't just cancer that's prevented. It's precancer and abnormal mammograms. That leads to fewer biopsies."
Yet, the vast majority of women who could most benefit from taking a breast cancer prevention drug have shied away from doing that. Part of their reluctance to take these drugs, and their doctors' reluctance to prescribe them, stems from worries over side effects such as blood clots and an increased risk for uterine cancer.
These drugs have a long-established history of safety and effectiveness, because researchers have studied them in women with breast cancer long before they even considered them for cancer prevention. "Tens of thousands of women have taken these medications worldwide, so the side effect profiles are extremely well defined," says Dr. Goss.
Currently, three drugs in two classes are recommended for breast cancer prevention in postmenopausal women: two selective estrogen receptor modulators (SERMs)—tamoxifen and raloxifene—and the aromatase inhibitor exemestane. All three drugs work on the most common type of breast cancer—estrogen receptor positive breast cancer—which needs the hormone estrogen to grow.
The big challenge is how to determine which women are the best candidates for taking these medications. Those who are at very high risk for breast cancer are definitely in this group. They include women who have had breast cancer, those who have inherited the BRCA gene mutation, and those who have had radiation therapy to the chest. Other groups of women, such as those who have a family history of breast cancer, are harder to identify as candidates.
For women who decide to take one of these medicines, there is one definite advantage: the cancer-reducing benefits will continue long after they go off it. "If you take five years of breast cancer prevention medication, you're left with a permanently reduced risk of breast cancer," says Dr. Goss. "That's like an insurance policy."
Read the full-length article: "Medicines to prevent breast cancer."
Also in the January, 2014 issue of the Harvard Women's Health Watch:

Preserving youthful skin without cosmetic surgery
Why a pet might be good for your health, and which type of pet is best
How to set healthy goals
Harvard Women's Health Watch is available from Harvard Health Publications, the publishing division of Harvard Medical School, for $20 per year. Subscribe at http://www.health.harvard.edu/newsletters/womens or by calling 877-649-9457 (toll-free).