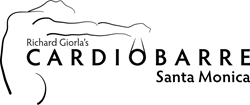 "Ignite your inner strength here. It's more than just a barre class, it is a barre revolution..."
Santa Monica, CA (PRWEB) December 20, 2013
Every New Year, millions make the resolution to live healthier, get fit, and be happier overall. In 2014, Westside residents have a new destination to get the help they need to achieve these goals – Cardio Barre Santa Monica.
Cardio Barre is a high-energy no-impact exercise class that combines barre work and light weights to transform bodies and empower minds. Essential to the workout are toning and resistance exercises for the buttocks, legs, torso and arms to sculpt muscles and elongate the appearance of your body through continual fat burning motion. No kicking, no punching, no jumping up and down, just exercises that lengthen and strengthen your muscles.
It may seem that Cardio Barre is just another workout craze, but a number of participants reveal a much deeper spiritual journey the class has led them on. While Cardio Barre SM has only been open a couple of months, it's already transformed the lives of a number of locals, including Patricia Smith, a 53-year-old artist who is an active member of the community, and more recently a Cardio Barre enthusiast.
Patricia began participating in Cardio Barre via a Groupon two months ago, seeking a new workout that would help her lose a few pounds after months of rehabbing an injury that halted her previously active lifestyle. All it took was one Cardio Barre session and three days of not being able to walk from a soreness that "hurt so good" for Patricia to be hooked. So much so that she has even started a blog about her journey with the program entitled "A Woman Walks Into A Barre" (http://www.awomanwalksintoabarre.com).
Patricia says, "Cardio Barre has not only changed the way I look, it has significantly changed the way I feel. My inner and outer energy have increased significantly. People respond to the passion that has been ignited and continues to get reignited every time I walk into class and come out feeling a greater sense of accomplishment each and every time. That passion is contagious."
Cardio Barre Santa Monica co-owners Lauren and Tamara invite the community to come experience their own transformation in 2014 both saying, "Come ignite your inner strength here. It's more than just a barre class, it is a barre revolution."
Cardio Barre Santa Monica is now open and offering classes seven days a week. Classes range from Intro to Advanced and a full schedule can be viewed on the studio's website at http://cardiobarre.com/studios/santa-monica-ca/.
Cardio Barre Santa Monica is located at:
3009 Lincoln Blvd.
Santa Monica, CA 90405
310.450.0720
SantaMonica(at)CardioBarre(dot)com
Media Contact: Jenn Deese, Melrose PR, jenn(at)melrosepr(dot)com, 310.260.7901, http://www.melrosepr.com