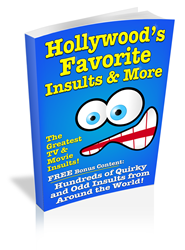 The greatest sarcastic insults crafted by the finest writers in the world.
Ottumwa, IA (PRWEB) December 27, 2013
Full Sea Productions' latest book, 'Hollywood's Favorite Insults and More', contains hundreds great one-liner insult jokes written by the finest (and highest paid) writers in the world.
According to Full Sea Productions, the process of selecting the sarcastic insult lines to include in their 'Hollywood's Favorite' book was performed over several months and included carefully sifting through many decades of popular television programming and blockbuster movies to find the best-written and most humor filled lines ever used.
Also included in the book are several chapters with quirky and odd insults from around the world. "We thought it would be fun and interesting to give readers a broad taste of lines and sayings that different cultures find insulting", said Full Sea Productions' spokesperson, Scott Mooney.
Full Sea Productions is best known for its comedic mobile video games including 'BusterBall' and 'Buster Dunk' and has recently published a series of insult and joke books to complement their mobile video game titles.
'Hollywood's Favorite Insults & More' is available from Amazon and can be downloaded to any Kindle reader.