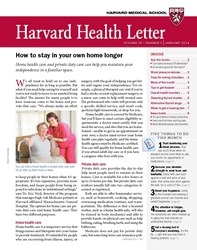 Boston, MA (PRWEB) January 07, 2014
Living in your own home can be a challenge when you need help caring for yourself. For a growing number of aging and ailing Americans, living at home is made possible by having someone come to the home to provide care, reports the January 2014 Harvard Health Letter. "We always make an effort to keep people in their homes when it's appropriate. It's less expensive, provides more freedom, and keeps people from being exposed to infections in institutional settings," says Dr. Eric Weil, director of the program that manages high-risk Medicare patients at Harvard-affiliated Massachusetts General Hospital.
The options for home care are home health care and private duty care. They have two different purposes. Home health care is a temporary service that brings nurses and therapists into the home to provide treatment. It's intended for people who are recovering from illness, injury, or surgery, with the goal of helping them get better and regaining their independence. Home health care is covered by Medicare. Private duty care provides the kind of long-term, day-to-day help that some people need to remain in their homes. Care can be available for a few hours a day or around the clock if needed. Medicare does not pay for private duty care, but some long-term care insurance policies do.
When shopping for home care or private duty care, here are some questions to ask:

How long has the agency been in business?
What state certifications does it have?
What kind of background checks are performed on caregivers?
What kind of training is required for caregivers?
Who will be coming into the home, a team or just one person?
It's important to have a caregiver who's a good communicator, says Dr. Weil. "Make sure the person or company has a reasonable understanding of basic health issues, and is comfortable reaching out to your health professionals if you need additional care."
Read the full-length article: "How to stay in your own home longer".
Also in the January 2014 issue of the Harvard Health Letter:

Stretches and strengthening can provide quick fixes for aching shoulders
The big red flag it's time to get a hearing test
Simple steps to improve well-being and quality of life
The Harvard Health Letter is available from Harvard Health Publications, the publishing division of Harvard Medical School, for $16 per year. Subscribe at http://www.health.harvard.edu/health or by calling 877-649-9457 (toll-free).