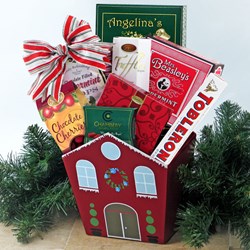 Clifton, NJ (PRWEB) December 19, 2013
Christmas is just days away, but Capalbo's Gift Baskets, the largest gift basket provider in the tri-state area for over 100 years, can still deliver any gift in time for Christmas, many of them with free shipping too!
Forget reindeer - Santa is flying by the seat of his own pants in the Santa Pants Whimsical Wine Tote outfitted with a bottle of red, and a host of seasonal snacks at a discounted price of 10% off, just in time for the Holidays!
You can also bring home the spirit of the season with the deliciously whimsical Holiday House Gourmet Gift - filled with sweet treats like Chambery chocolate raspberry truffles, Angelina's sweet butter cookies, and chocolate covered peanuts for everyone – with shipping included!
Ring in the holidays with the Champagne & Cookies Duo including Louis Perdrier Brut Excellence Champagne and Delacre Royal Belgian chocolate cookies in a fancy red gift tin. These are too terrific to pass up, especially with a holiday special of 12% off.
Time is running out, but 1-2 day ground delivery is available to over 21 states and local van delivery is available throughout Northern New Jersey up until Christmas Eve, this Tuesday, December 24. Express shipping will get gift baskets anywhere else in the country on time, too.
Capalbo's Gift Baskets has a wide selection of gifts, from wine and champagne baskets to gourmet food and fruit baskets. They are fully stocked with Rosé wine, Chardonnay, Pinot Grigio, and reds like Cabernet Sauvignon, Pinot Noir, Merlot, among others.
Each basket from Capalbo's Gift Baskets is created and designed in their 40,000 square foot facility in NJ. They will also personalize gift messages, at no additional charge.
Customers can order via the website, capalbosonline.com, on their desktop or mobile device. The baskets and gifts can also be seen in person at their retail store, located at 350 Allwood Road in Clifton, NJ 07012, just across from the Clifton Promenade Mall. Extended holiday hours are from 8 am – 8 pm and they are open Christmas eve until 4 pm.
About Capalbo's Gift Baskets
Capalbo's Gift Baskets provides fast, fresh and delicious gourmet fruit & food baskets, wine & champagne baskets, gift towers & tins and baby gift baskets to customers nationwide. Every basket is backed by a 100% unconditional satisfaction guarantee which has been the Capalbo promise for over 100 years. Customer Service Representatives, all friendly and knowledgeable, are available to assist from 9:00am to 6:00pm weekdays by phone at (800) 252-6262 or via live online chat. Visit their sister sites, winebasket.com for wine, champagne and gourmet food arrangements, and babybasket.com, for all newborn baby gift needs.