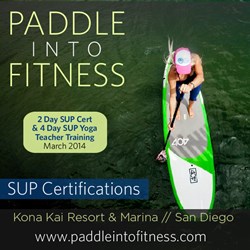 San Diego, CA (PRWEB) December 20, 2013
Paddle Into Fitness, LLC is excited to announce a new two day SUP Certification program approved under the WPA (World Paddle Association) covering water safety, paddle technique, beginner lesson instruction, the business of SUP and more to provide a quality program for paddlers looking to teach the popular water sport of standup paddleboarding. The first program of 2014 will be led by Roxy SUP athlete Gillian Gibree on March 28 & 29 at the Kona Kai Resort & Marina in San Diego, California.
For students looking to take the Yoga Alliance accredited four day SUP Yoga Certification, they will complete two additional days of training dedicated to learning the three Paddle Into Fitness styles of SUP Yoga – Gentle Wave, Nautical Flow, and Surfer's Sculpt. Paddle Into Fitness has lead eight successful SUP Yoga instructor trainings and has received positive reviews from ambassadors. "Gillian, I just wanted to thank you again for sending Yoga Journal my way. So many exciting things are happening around SUP Yoga, I've been invited to the Maine Yoga Fest to teach SUP Yoga classes and also received an invitation to demo Paddleboard Yoga in Portsmouth. I'd like to give you credit for putting together a fantastic certification program, and for always being willing to share the limelight with us. You should be proud. Much Love and Appreciation!" – Karen, Boston
Paddle Into Fitness is also launching a new Affiliate Program to SUP certification graduates, which will give students the right to implement the four signature Paddle Into Fitness classes at new business locations. It will also provide the paddleboard companies web presence through links on the Affiliates page and social media promotion through Paddle Into Fitness's international following. For more information, please contact Genevieve at certification (at) paddleintofitness (dot) com.
About
Paddle Into Fitness® offers a four day SUP Yoga instructor certification program and a two day Paddleboard Instructor training. Paddle Into Fitness was nominated for "Best Yoga" by the San Diego Union Tribune, and was recently featured on the cover of Yoga Journal Magazine. The company has presented at the San Diego Yoga Journal Conference, the Wanderlust Festival Hawaii, and taught the world's largest SUP Yoga class on Lake Tahoe. At Paddle Into Fitness, you will find a unique way to get into shape while connecting with the water, and learn how to share this healthy lifestyle with others.