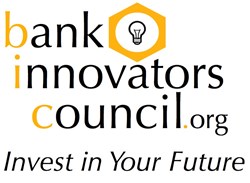 Seattle, Washington (PRWEB) December 23, 2013
The Bank Innovators Council ("BIC") today announced new partnerships with NextBank USA, BankersHub and Innovation Agency. All three partnerships will significantly enhance the Bank Innovators Council member experience by improving the speed and quality of information-sharing, idea generation, and implementation.
Following successful events in Sydney, Hong Kong, Italy, Bogota, Madrid, Beijing and Singapore, NextBank is finally coming to North America in 2014. BIC is proud to partner with the only event that focuses on the intersection of banking, design and technology. "Our members will find the content of NextBank unique and invaluable," commented BIC co-founder, JP Nicols. "Our partnership will provide another major event for our members to gather and work together to help them innovate inside their respective companies."
BankersHub, which delivers research insights, opinions, information on best practices, and economic trends through online web education and virtual events, will help keep BIC members connected year-round and regardless of geographic location. "We wanted to make sure our members could accomplish great things throughout the year," noted Will Trout, co-founder of the BIC. "BankersHub provides the ideal tools to accomplish that goal."
Another partnership designed to support year-round ideation and communication is the BIC's partnership with Innovation Agency and the creation of the BIC Innovation Café. Innovation Café online tools will allow members to form public and private groups to share, rank and discuss ideas. "The Bank Innovators Council was the ideal group to embrace our solution," commented Christoph Wertz, President and CEO of Innovation Agency for the Americas. "BIC is leading the way in assisting banks to generate and start implementing innovative ideas, which is exactly what our tool is designed to accomplish."
The Bank Innovators Council will hold Innovation Labs, Workshops, and Webinars throughout 2014 and beyond. Visit http://www.bankinnovatorscouncil.org to sign up for the free membership, as well as learn about their events, platform and partnerships to benefit members in their innovation efforts, including their workshop at Level39 in London on February 13, immediately following Finovate Europe.
About the Bank Innovators Council
The Bank Innovators Council is a membership organization that helps support, promote and facilitate innovation within and amongst its member banks. With members in 34 states and 29 countries on 6 continents, the Council provides opportunities for members to pool their resources to develop and test new ideas outside of the day-to-day demands of their existing businesses, in ways they could not do alone.
About NextBank
NextBank is a conference concept discussing the REAL future of banks, financial services and money. Designers, technologists, entrepreneurs, venture capitalists, marketers, bankers, and innovators will come together to discuss the best ideas in the USA. This is a unique opportunity to be a part of something brave and new for the banking industry.
About BankersHub
BankersHub was founded in 2012 by two financial services professionals, Managing Director – Financial Services Michael Beird and Managing Director – Events and Education Erin Handel. Both Beird and Handel are dedicated to educating and informing banks, credit unions, solution providers and consultants in the U.S. and around the globe. BankersHub delivers best practices, research insights, opinions, economic trends and consumer views through online web education, virtual events and conferences, live streaming activities, custom training and content development.
About Innovation Agency
Innovation Agency is a leading consultancy firm in the field of innovation with a presence in the United States of America, Europe, Asia, Africa, and Australia. We pride ourselves on our ability to access the untapped wealth of knowledge that resides within an organization's idea-sharing and problem-solving networks. We have vast knowledge and experience in the field of organizational network analysis and innovation. Using detailed innovation maturity assessments, we are able to accurately map social and organizational networks. This is used to structure innovation initiatives in a way that ensures the greatest possible benefit for our clients' unique requirements. Innovation Agency partners with dynamic organizations to create an innovative culture which is focused on tangible results and business benefits.