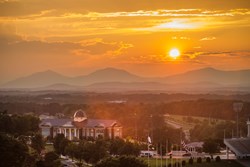 Lynchburg, VA (PRWEB) December 19, 2013
The world's most popular search engine has provided an indicator of how fast Liberty University is growing in national prominence.
In a survey of more than 1 trillion queries, Google ranked Liberty second on its 2013 list of Top Trending Colleges and Universities. Liberty is the top ranked nonprofit university on the list.
"It is gratifying to see that so many are researching what Liberty University has to offer," said President Jerry Falwell, Jr. "It is a clear indicator that people are taking notice of Liberty's uniqueness among colleges and universities and its unprecedented growth to recently become one of the seven largest universities in the nation."
The ranking also reflects the success of Liberty's unique blend of more than 300 online and residential degree programs, world-class facilities, academic excellence, and NCAA Division I sports. The university's business model, which focuses on fiscal responsibility and teaching excellence, is redefining success in higher education as it makes quality education affordable and accessible to as many as possible. More than 90,000 students enrolled in Liberty's online programs last year, and over 12,500 enrolled as resident students. Liberty is now the largest Christian university in the world.
The Google Zeitgeist site annually ranks trending searches, analyzing them by time of year and regions of origination throughout the world. Other categories include top events and people — everything from authors, athletes, books, and blogs to tech gadgets, television shows, and video games.
"Our teams have worked hard to expand and improve Liberty's Web presence, and this ranking is evidence of that," said Matthew Zealand, Liberty's chief information officer. "We remain focused on delivering engaging content while using the latest methods to develop effective online tools and resources for a rapidly growing student population."
About Liberty University
Liberty University, founded in 1971, is the largest private, nonprofit university in the nation, the largest university in Virginia, and the largest Christian university in the world. More than 100,000 students attend classes on its 7,000-acre residential campus and study in its thriving online education program.