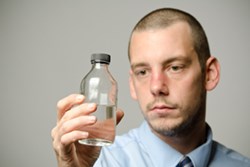 Harrison, AR (PRWEB) December 21, 2013
John Kincaid, a North Arkansas College student from Alpena majoring in Environmental Science has a bright future ahead of him. Last December, he received the Student Undergraduate Research Fellowship (SURF) from the Arkansas Department of Higher Education (ADHE). John is the son of Donna Kincaid.
He received $4,000 and agreed to conduct in-depth research in the field of environmental science with the results of the research to be presented to the Arkansas Academy of the Sciences in 2014. John worked with the National Park Service (NPS) to test the effect of stream gravel bed load on oxygen levels in tributaries of the Buffalo National River.
A few of the courses required for the Environmental Science degree were not available to John at Northark. Factors such as low demand and costs affect the ability for many of classes to be offered on a consistent basis. Students are aware of this and take many of these courses after they transfer to a university.
2014 will bring new opportunities for local learning in these high-level fields.
Through the STEM Preparation Program, community college students enrolled in the Spring semester or afterward, can learn from instructors both at Northark and at the University of Arkansas, live at home while working on the basics and pay Northark's affordable tuition rates.
STEM Prep students will pay Northark's in-county rate of $79 per credit hour. A financial aid consortium agreement between institutions will allow students to dual enroll in both institutions and receive the same financial aid as if they are taking all courses at Northark.
The STEM Preparation Program is designed for students enrolled at two-year colleges in Arkansas who are interested in a degree in science, engineering or math. This program will allow students to take University of Arkansas science, engineering and math classes online. Classes will be taught by University of Arkansas professors.
Northark students in good standing, or new Northark students, who meet the prerequisites for the course, will qualify for the program. Those enrolled in a Northark concurrent credit class may also enroll in STEM Prep courses (with the exception of Intro to Engineering).
UA hopes to eventually offer more than 22 math, science, and engineering courses. Two courses will be offered for spring 2014: Calculus II and Intro to Engineering.
All students enrolled in STEM Prep courses will receive academic support through UA"s tutoring center. Online tutoring will be offered through a two-way web-conferencing system. The tutors will include UA undergraduate students who are experienced in the courses offered. In addition, a graduate student will be assigned to each course to lead virtual student sessions and host office hours. While graduate students will be STEM Prep students' primary source of academic support, UA faculty will also be available to answer questions online, guide testing and aid in student evaluations.
The STEM Prep program is not designed to replace courses currently offered at Northark. The program is designed to consistently offer those courses that Northark cannot regularly offer because of low demand. Northark will continue to offer many of the courses needed for STEM majors, including Calculus I this spring.
STEM Prep classes will count toward Northark's AA degree and toward an engineering, science or math degree at the University of Arkansas.
STEM Prep courses aren't just for pre-engineering majors. The expanding list of offerings will provide for students planning to pursue other STEM (Science, Technology, Engineering, and Math) degrees.
As for John, his educational goals include completing an Associate's degree in both the Arts & Sciences, while obtaining a certificate in General Studies. He is interested in participating in Greenpeace's two semester training program studying important present-day global environmental issues. He is already a Northark Success Story.
For more information about the STEM Preparation Program, contact Dr. Laura Berry, dean of arts & sciences by email at lberry(at)northark(dot)edu or phone at (870) 391-3280 or Nell Bonds, dean of outreach by email at nbonds(at)northark(dot)edu or phone at (870) 391-3181.
Enrollment for the spring semester is open from 8:30 A.M. – 4:30 P.M. Monday through Friday until January 13. Classes start January 13, 2014. Extended registration for classes that have not yet begun is scheduled for January 13-16, 2014. (Note: Northark will be closed for the holidays beginning December 23 and will reopen on January 6, 2014).