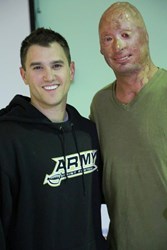 I want to thank Bobby Henline for being an inspiration for people and for putting other's happiness above himself. You're an inspiration. Thank you - Cameron Amigo
Cleveland, Ohio (PRWEB) December 20, 2013
Laugh Staff Co-founder Cameron Amigo was provided the opportunity to open up for a true American Hero, Bobby Henline. Bobby was injured in an IED blast in Iraq in 2007 and now does stand-up comedy and motivational speaking with the Wounded Warrior Project, where he was in Camp Arifjan, Kuwait to perform for the troops.
Amigo had this to say about his experience, "Make no mistake; last night was the best night of both my military and standup career I've ever had. Last night is what I want my life to be about; changing the world one joke at a time. Many people probably look at Bobby and think he doesn't have anything to offer, they couldn't be more wrong. He gives everything he can to other people….I mean seriously; he gave his left hand for YOUR freedom."
Co-Founder Josh Womack also had this to say about Bobby & Cameron sharing the mic together, "I am extremely proud of my friend and Laugh Staff business partner Cameron Amigo as he opened for war veteran turned stand-up comic & motivational speaker Bobby Henline at Camp Arifjan, Kuwait. Glad Cameron got to have some fun while making us proud! Thank you to Bobby Henline for serving our country and being a role model to comedians everywhere."
To read more about Amigo's experience go to laughstaff.com. For more information about Bobby Henline, please go to bobbyhenline.com. For information on the Wounded Warrior Project go to http://www.woundedwarriorproject.org. To learn more about Laugh Staff and their speech writing services visit laughstaff.com or email info(at)laughstaff(dot)com.
About Laugh Staff:
Laugh Staff, Inc. was founded in 2012 by a team of comedians and writers in Cleveland, Ohio. Laugh Staff helps their clients with best man speeches as well as providing best man speech examples best man speech examples on their blog. They assist best men and maids of honor in speech-editing, speech writing, and provide training on speech delivery. Recognizing the importance of the big day, Laugh Staff's professional comedians work with best men and maids of honor to ensure they make a lasting impression.