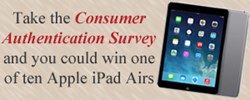 We've all heard the stories about Consumer Authentication, but now is your chance to share yours and make your voice heard.
Sarasota, FL (PRWEB) December 22, 2013
What would consumer authentication look like if you were in charge? Now is your chance to provide the input and feedback that can influence the future of Consumer Authentication programs to include programs such as Verified by Visa and MasterCard SecureCode. Whether you are supporting these programs today or plan to in the future, the perspective offered from industry professionals such as yourself can have an impact. The survey will be open for participation for 5 weeks ending in mid January with the final report coming out the end of January 2014. This will be the first in an annual survey and report focusing on the market's opinions, usage and understanding of Consumer Authentication programs, such as Verified by Visa and MasterCard SecureCode. The survey and report will provide a longitudinal study that includes the sentiments of all the constituents of Consumer Authentication to include merchants, issuers, acquirers, fraud solution providers and card associations. The objective is to separate fact from fiction on the interest and methods for utilizing Consumer Authentication in today's eCommerce Market.
This annual report will be published by CardinalCommerce with the accompanying survey, research and interpretation of the results being administered by The Fraud Practice. What makes this survey unique is that it will be the first to really catalogue, in mass, not only the opinion of those merchants that have already decided to make use of Consumer Authentication but also the sentiments of those merchants that have not implemented it. With over ten thousand merchants using Consumer Authentication through CardinalCommerce today, the survey is well-positioned to collect and report information about the implementations and perspectives that merchants and other payment industry players have on Consumer Authentication so you can make more informed decisions as EMV rolls out in the US market.
The survey is conducted entirely online and participant responses will remain completely anonymous as the findings report will discuss only the aggregated data. The online questionnaire is only about 25 questions in length, and all participants will receive a copy of the report as well as being entered in a drawing to win the brand new iPad Air with two prize drawings per week for the next five weeks. Please accept this invitation from The Fraud Practice and CardinalCommerce to participate in the survey.
About The Fraud Practice
The Fraud Practice is a privately held US LLC based in Sarasota, Florida. The Fraud Practice provides consulting services on eCommerce payments, fraud prevention and credit granting as well as prepared research and online training for payment and fraud professionals. Businesses throughout the world rely on The Fraud Practice to help them build and manage their payment, fraud and risk prevention strategies.
The Fraud Practice LLC
5525 Office Park Boulevard Suite 107
Bradenton, FL 34203-3443
Direct: 941.244.5361
http://www.fraudpractice.com
http://www.cnptraining.com
About CardinalCommerce
Cardinal has been a pioneer in the remote payments industry since 1999 and is a branded global leader in enabling authenticated payment transactions in the electronic commerce and remote commerce markets. CardinalCommerce is headquartered in Cleveland, Ohio and services a worldwide Customer base from facilities in the United States, Europe and Africa. For more information, visit http://www.cardinalcommerce.com.
CardinalCommerce:
Tara Lavelle
Vice President, Marketing
CardinalCommerce Corporation
Tara Lavelle
6119 Heisley Road
Mentor, Ohio 44060
P: 877.352.8444
tlavelle(at)cardinalcommerce(dot)com
http://www.CardinalCommerce.com