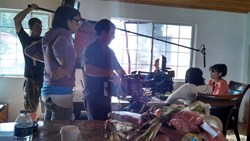 "Debrianna was great to work with because she was always prepared and came ready to work." Director Sydney Freeland, "Drunktown's Finest" Sundance selection 2014
Santa Fe, NM (PRWEB) December 23, 2013
With one more performance ahead of her playing the famed artist Georgia O'Keeffe, Santa Fe actress Debrianna Mansini is off – this time to the Sundance Film Festival in Park City, Utah. Mansini had the good fortune to be one of the few Caucasian actors cast in the film "Druntown's Finest," making its world premiere debut at Sundance in January 2014. Mansini's role as Phoebe in Drunktown's Finest, written and directed by Native American Sydney Freeland, fits right in with Mansini's roles of late–playing strong, independent women. Mansini recently closed a successful six-week run of playing the lead role of Margie in David Linsday-Abaire's "Good People," running in both Santa Fe and Albuquerque. She immediately went into rehearsal for reading the O'Keeffe/ Stieglitz letters. While in performance, she got the news that "Drunktown's Finest "was an official selection for 2014 Sundance.
"I feel like I won the lottery for actors," says Mansini. "I am thrilled to have been part of this film and excited beyond reason to have worked with Sydney. She is extraordinarily talented. There are clearly not enough women directing film and I am proud to have been part of her team. Coming off of 'Good People,' directed by Janet Davidson, I feel like I am right where I want to be– working with talented women who have something to say about the world we live in."
No stranger to independence, Georgia O'Keeffe fits with Mansini's vision. She has one more performance to breathe life into Georgia. Then...who knows. As Director Sydney Freeland says "We averaged about 8 pages a day for Drunktown's Finest, which is a pretty insane pace for a single camera shoot. It was really important that actors knew their lines and came prepared to hit the ground running. Debrianna was great to work with because she was always prepared and came ready to work." The sky seems like the limit for this Santa Fe actress.
For tickets to see the last O'Keeffe/Stieglitz letter reading on December 28th at 6 p.m., contact the O'Keeffe Museum at http://www.okeeffemuseum.org/.
About Debrianna Mansini: Debrianna Mansini (represented by O Agency) is an actress who combines her talent with activism. She is deeply concerned with using the voice of her craft to shed light on women and social justice issues. Her NY roots and training live with her in New Mexico, her enchanted home base, along with her husband, accomplished artist David Forlano.