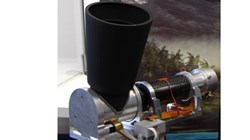 With the new unprecedented access to a space telescope on the Moon, students, teachers and the public will join professional researchers as citizen scientists, exploring the Cosmos and their own human potential. - Naveen Jain
Bellevue, WA (PRWEB) December 23, 2013
The ILO-X telescope uses innovative optical and imaging technology, combined with advanced software and micro-miniaturized electronics. The result is with a device the same size as a large shoe box which weighs around 5 pounds which is capable of delivering deep space pictures of objects inside and outside of our Milky Way Galaxy. Moon Express is designing and building the Lunar Telescope for its customer, The International Lunar Observatory Association, and the inaugural flight is slated for 2015.
The first private space telescope to operate from the lunar surface, the ILO-X will be made available to researchers, educators and the general public, who will be able to access it through the internet. Naveen Jain hopes this will allow the world to access astronomical images from the surface of the Moon and create a new model of "democratized science" while fostering international collaboration.
ILO-X's internet-based access and control system went through functionality testing in December of 2011, during a Global Demonstration from the Summit of Mauna Kea, hosted by the Canada-France-Hawaii Telescope (CFHT). Teams of scientists and individuals from around the globe participated in its testing, operating a prototype of the instrument in a simulated lunar environment.
The ILO-X is expanding the model of commercial space investment to the Moon to enhance science, education, exploration and commercial activities.
Naveen Jain said, "As a boy growing up in poverty in India, I used to look up at the Moon with wonder. As inspirational as that was, I didn't imagine that I could ever play a role in exploring it. Imagine what it will mean for millions of students around the world to have access to their own space telescope on the Moon. Imagine the generations of new scientists and engineers who will be inspired to study the Moon and the stars and believe that anything is possible.  With the new unprecedented access to a space telescope on the Moon, students, teachers and the public will join professional researchers as citizen scientists, exploring the Cosmos and their own human potential."
Follow Naveen Jain on Twitter for more updates on Moon Express developments.