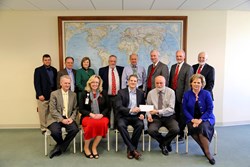 Loma Linda, Calif. (PRWEB) December 19, 2013
The Executive Leadership Council at Loma Linda University Health (LLUH) has decided to skip this year's administrative Christmas party and instead donate the funds to Inland Temporary Homes (ITH), which helps families with short-term housing while working on getting more permanent housing. Representatives from the Loma Linda-based shelter program, which was started in 1991 by members of the Loma Linda University Church, received a check from the council on Tuesday, Dec. 17. "Our mission at Inland Temporary Homes is to break the cycle of homelessness for families with children in the Inland Empire by providing transitional housing, case management, and other supportive services to families who have no place to live," said Jeff Little, CEO of Inland Temporary Homes. "We are only able to pursue our mission with the help of our supporters, like Loma Linda University Health, and its Executive Leadership Council." In the photo (clockwise from top left): Alex Aasen, master's student at LLU School of Behavioral Health and intern at ITH; Albin Grohar, acting chair, health and policy management, LLU School of Public Health and ITH board member; Cari M. Dominguez, senior vice president of human resources and chief talent and diversity officer, LLUH; Kent Hansen, general counsel, LLUH; Dr. Ricardo Peverini, senior vice president for clinical faculty, LLUH; Mark L. Hubbard, senior vice president, risk management, LLUH; Kevin J. Lang, chief financial officer, LLUH; Gerald R. Winslow, vice president for mission and culture, LLUH; Ruthita J. Fike, CEO, LLU Medical Center; Dr. Richard H. Hart, president, LLUH; Jeff Little, CEO, ITH; Rachelle Bussell, senior vice president for advancement, LLUH; and Dr. Roger Hadley, executive vice president for medical affairs, LLUH.
###
About Loma Linda University Health (LLUH)
Loma Linda University Health includes Loma Linda University's eight professional schools, Loma Linda University Medical Center's six hospitals and more than 900 faculty physicians located in the Inland Empire of Southern California. Established in 1905, LLUH is a global leader in education, research and clinical care. It offers over 100 academic programs and provides quality health care to 40,000 inpatients and 1.5 million outpatients each year. A Seventh-day Adventist organization, LLUH is a faith-based health system with a mission "to continue the teaching and healing ministry of Jesus Christ."
CONTACT: Herbert Atienza, 909-558-8419, hatienza(at)llu(dot)edu