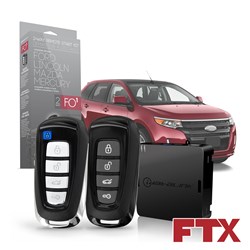 Instead of just rebranding a retail grade product, FTX gives our dealers and expeditors a unique solution that matches or exceeds OEM-grade quality
Seattle, WA (PRWEB) December 23, 2013
Firstech, makers of Compustar, Arctic Start, and DroneMobile aftermarket automobile solutions, has bolstered its efforts to diversify its product offering for its dealers. Operating under the brand name, FTX (Firstech Expediter), Firstech will reach out directly to retailers interested in selling products and services to car dealerships.
Firstech's FTX offers OEM-grade remote starters for 12-volt retailers and expediters to sell at the car dealership level. Amongst FTX's product lineup is the addition of T-harness remote start solutions for BMW and Mercedes-Benz vehicles. Firstech released these solutions with the help of the Montreal-based company, Automotive Data Solutions (ADS), to provide an installer-friendly remote starter that does not interfere with the OEM functions of a vehicle.
In addition to the BMW and Mercedes-Benz models, FTX now also offers "all-in-one" remote start bundles engineered for Chrysler, Ford, and GM vehicles. Each of these bundles is available in two versions: Basic and Advanced (includes 2-way remote that confirms commands from up to 4000 feet away). These FTX bundles were released last Spring.
As Firstech looks forward to 2014 and beyond, the company's efforts to improve its expeditor line reflect its vision for the remote start industry. "As car manufacturers pay more attention to remote starters, it is critical that the aftermarket (manufacturers) continues to find ways to innovate," shares Director of Sales Jason Kaminski. "Instead of just rebranding a retail grade product, FTX gives our dealers and expeditors a unique solution that matches or exceeds OEM-grade quality."
Expeditors and retailers can learn more about FTX products and Firstech by visiting OEMremotestart.com. Listed on their website are all of the vehicle makes currently covered by FTX products.
FTX is a brand of Firstech, LLC. Firstech was founded in 1997 to provide the industry's most innovative aftermarket automotive technologies, backed by unmatched customer service. The company's primary focuses are remote start, security, and telematics solutions for automobiles.