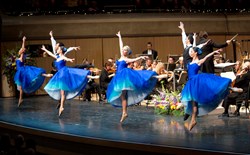 (PRWEB) December 20, 2013
State Theatre presents a light-hearted blend of popular Strauss waltzes, polkas, and famous operetta excerpts in Salute to Vienna – New Year's Eve Concert on Wednesday, December 31, 2013 at 6 p.m. Salute to Vienna features The Strauss Symphony of America, Viennese conductor Christian Schulz, Viennese soprano soloist Monika Rebholz, tenor soloist Brian Cheney, and dancers from Europa Ballett – St. Pölten. Salute to Vienna is sponsored by Bank of America. Tickets range from $47-$107.
Special New Year's Eve ticket/restaurant/hotel packages with The Heldrich, Stage Left, Catherine Lombardi, Christopher's Restaurant & Bar, Clydz, Due Mari, The Frog and the Peach, Panico's, and/or Sophie's Bistro are available. To purchase NYE packages, call 732-247-7200, ext. 517.
Patterned after Vienna's world famous "Neujahrskonzert," Salute to Vienna returns to the State Theatre with a fresh, new program. Always a festive event, the concert features favorite Strauss waltzes, polkas, and famous operetta pieces and is a light-hearted New Year's tradition the whole family can enjoy.
In 1987, Attila Glatz Productions came to North America with the mission to add breadth and variety to musical events from Canada to the United States, and beyond. Salute to Vienna, always presented around New Year's Day, is the company's signature presentation, modeled after "Neujahrskonzert," performed in concert halls from the Lincoln Center in New York City to the Walt Disney Concert Hall in L.A. For over 17 years, Salute to Vienna has been commemorating the music of Johann Strauss Jr. and his contemporaries for audiences across North America. Every year debuts new programs featuring a full orchestra under the baton of a renowned European conductor, expert European singers, and Viennese dancers. Co-founders Marion and Attila Glatz were awarded the Austrian Government's Decoration of Merit in Gold for the dedication and passion put into the Viennese tradition.
In addition to Salute to Vienna, the company also produces and manages tours for classical, jazz, folk, and country artists across the globe. They produce over 50 performances per year; including an exclusive Toronto engagement of world-famous tenor, Plácido Domingo, a Strauss/Gershwin Gala in Vienna featuring the late Gregory Peck as narrator, Distant Worlds: music from Final Fantasy, and The Lord of the Rings Symphony in cooperation with Columbia Artist Management.
Plus Fireworks!
Stay in New Brunswick on NYE and see the most spectacular fireworks display at midnight off the roof of The Heldrich hotel right across the street from the State Theatre in Monument Square.
For tickets or more information, call the State Theatre ticket office at 732-246-SHOW (7469), or visit us online at http://www.StateTheatreNJ.org. The State Theatre ticket office, located at 15 Livingston Ave, New Brunswick NJ, is open Monday, Tuesday, Thursday, Friday, 10 a.m. to 6 p.m.; Wednesday 11 a.m. to 7 p.m.; Saturday, 1 p.m. to 5 p.m.; and at least three hours prior to curtain on performance dates, unless otherwise specified. For information on group outings and discounts, call 732-247-7200, ext. 517. Some additional ticket and transaction fees may apply.
State Theatre is a premier nonprofit venue for the performing arts and entertainment. The theater exists to enrich people's lives, contribute to a vital urban environment, and build future audiences by presenting the finest performing artists and entertainers and fostering lifetime appreciation for the performing arts through education. The State Theatre's programs are made possible, in part, by funding from the New Jersey State Council on the Arts/Department of State, a Partner Agency of the National Endowment for the Arts, and contributions from numerous corporations, foundations, and individuals. The Heldrich is the official hotel of the State Theatre. Magic 98.3 is the official radio station of the State Theatre. The Star-Ledger is the official newspaper of the State Theatre. United is the official airline of the State Theatre.
State Theatre
15 Livingston Ave.
New Brunswick, NJ 08901
Ticket Office - 732-246-SHOW (7469)
Online - http://www.StateTheatreNJ.org
Interviews and photos furnished upon request.
Please contact Kelly Blithe at 732-247-7200, ext. 542 or by email at kblithe(at)StateTheatreNJ(dot)org.
Up-to-the-minute information on events and State Theatre news, online at http://www.StateTheatreNJ.org.