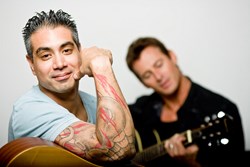 Fort Lauderdale, FL (PRWEB) January 01, 2014
Have you made your New Year's resolutions yet? If not, Skype guitar teacher Dyce Kimura offers a reason for you to consider learning a musical instrument in 2014. Dyce Kimura, a Fort Lauderdale-based musician, is offering a 50% discount toward the first lesson for students who sign up for Skype guitar lessons during the first week of January and make learning guitar their New Year's resolution. Simply reference this article to get started on your resolution to learn guitar this year.
A musician with over 28 years of experience playing the guitar, Dyce Kimura believes that the New Year is a great time for new students to explore their passion for music. Kimura comments, "I'm offering this discount on the first lesson to encourage new students to really take advantage of all the opportunities a new year brings. This is the time for anyone who has been harboring a passion for music or simply wants to explore a new skill to take the plunge and sign up for guitar lessons." Because Kimura offers these lessons via Skype, people across the globe can take advantage of this discount and learn to play the guitar from the comfort of their own home.
Regardless of your current skill level, Dyce Kimura's proven methods allow students of all backgrounds to succeed and meet their own personal goals. While many of his students are beginners, Kimura also offers Skype intermediate guitar lessons to students who are looking to sharpen their skills and improve their talents.
Kimura will first evaluate your current level, allowing him to determine the specific path each student's lessons will take. Kimura also allows students an equal role in this decision; if students want to learn a particular playing style or even a song, they can. During each lesson, Kimura will use a range of methods to meet the needs of each individual student, including tabs, scales, sheet music, chord grids and charts, and ear training. With his proven methods for teaching guitar, Kimura helps students develop their skills at their own pace.
A musician for over 28 years, Dyce Kimura believes that music is something that unites people from all cultures and backgrounds. By offering Skype guitar lessons, Kimura is able to reach a wider audience and not only teach his students, but learn from them. Kimura has encountered students from all walks of life since he began offering guitar lessons via Skype.
Dyce Kimura is a music instructor based in Fort Lauderdale, FL who offers lessons via Skype for guitar, bass, and other musical instruments.
Contact: 786-457-3687
http://www.skypeguitarlessonsonline.com/