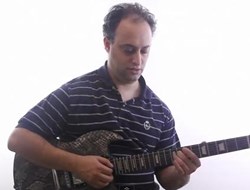 (PRWEB) December 19, 2013
In this guitar lesson, now available on YouTube.com, Claude Johnson teaches how to spice up the pentatonic scale by adding extra notes to it.
Claude demonstrates this concept by using the B Pentatonic minor scale at the 7th fret of the 6th string. Adding notes from out side of the scale is called adding passing tones. The first passing tone he adds is the most commonly used which is the diminished 5th, (flat 5). Johnson is using the first position of minor pentatonic for this demonstration which places the diminished 5th at the 8th fret of the 5th string and the 9th fret of the 3rd string. The diminished 5th is often referred to as the blue note. The next example Claude teaches is to add the major 3rd, this is done by playing the 6th fret of the 5th string and the 8th fret of the 4th string, and this also is very common in Blues guitar. Next he adds the major 7th, which is played at the 8th fret of the 4th string. This creates a chromatic passage between the 7th, 8th, and 9th frets of the 4th string. The last example Johnson demonstrates is adding the major second at the 9th fret of the 6th string, 6th fret of the 3rd string, and 9th fret of the 1st string. Claude finishes out this lead guitar lesson by putting it all together by adding all of the passing tones to the scale which he refers to as "filling in the gaps". "Hendrix used that, so did Robbie Kreger from the Doors", says Johnson. All of this and more can be found at GuitarControl.com/secrets.
Claude Johnson
Claude Johnson, a native of Philadelphia PA, began playing guitar in 1990 after being inspired by players like Jimi Hendrix, Eric Clapton, and Stevie Ray Vaughn. He is the creator of GuitarControl.com and has helped 1000's of people to learn to play the guitar with his critically acclaimed instructional DVD courses, all available at GuitarControl.com
About GuitarControl.com
GuitarControl.com is the leader in modern guitar instruction. It's packed with recourses including articles, video lessons, and the best videos in the business for the beginner to the advanced guitar student taught by the best instructors out there. Weather you are into the blues, rock, jazz, metal, folk, or anything in between, they have you covered.