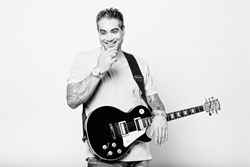 Fort Lauderdale, FL (PRWEB) January 06, 2014
Have you been thinking about learning the guitar, but haven't had a reason to take the next step in doing so? For students who make guitar lessons their New Year's resolution, Miami guitar teacher Dyce Kimura is offering a 40% discount toward the first lesson. With Skype guitar lessons, Fort Lauderdale musician Dyce Kimura makes it easy for anyone to learn guitar, no matter where they are located. As long as you have an internet connection, webcam, and microphone, you can learn guitar with Dyce Kimura in 2014.
Dyce Kimura is a strong believer in the power of New Year's resolutions. When asked why he chose to offer this discount, Kimura stated, "The reason we make resolutions each year is because the New Year is a time for starting over and taking advantage of the many possibilities available to you in life. By making guitar lessons your New Year's resolution, you are opening up your creative side and exploring a new skill that you may have yet to discover."
A Florida musician with over 28 years of playing experience, Dyce Kimura is well known for his Fort Lauderdale guitar lessons. In particular, students appreciate the teaching method that Kimura uses, allowing students to hone their talents at their own pace. First, Kimura evaluates each student, determining what playing level they are at. While many of his students are completely new to playing a musical instrument, Kimura also offers
Skype intermediate guitar lessons for students who are at a more advanced stage in learning to play and want to learn online.
After the evaluation, Kimura is able to develop a lesson plan for each individual student based on that person's current playing level, personal goals, capacity for retention, and practicing regiment. One tenet of Kimura's teaching methods is that students should always be personally involved in their own learning process. If a student wants to learn a particular song, focus on a certain style of playing, or move at a different pace, Kimura will incorporate these factors into his individualized lesson plans.
When it comes to his guitar lessons, Kimura never focuses on simply teaching students to play specific songs. Instead, he uses songs to demonstrate the techniques involved in playing guitar, allowing his students to develop a foundation that will make them a much better player over time. To sign up for your first lesson with the 40% discount, simply reference this article and your New Year's resolution to learn to play guitar.
Dyce Kimura is a music instructor based in Fort Lauderdale, FL who offers lessons via Skype for guitar, bass, and other musical instruments.
Contact: 786-457-3687
http://www.skypeguitarlessonsonline.com/