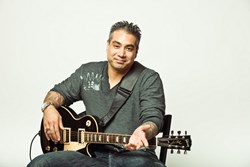 Miami, FL (PRWEB) January 13, 2014
This year, Miami guitar teacher Dyce Kimura is providing a deal that may influence New Year's resolutions. For first-time students who make the resolution to learn guitar in 2014, Kimura is offering 50% off the first lesson. A musician with over 28 years of playing experience, Kimura encourages anyone who has a passion for music or wants to explore an undiscovered talent to make guitar lessons their New Year's resolution. Simply reference this article to receive the 50% discount on your first lesson with Dyce Kimura.
Dyce Kimura strongly believes that the New Year is the perfect time for anyone to take the first step in learning to play a new instrument. Kimura commented, "I'm offering this discount for first-time students to provide that extra bit of motivation to those who may want to learn guitar, but haven't had a good enough reason to start. The beginning of a new year is ripe with opportunities, and I think that exploring your creative side is an excellent opportunity to take hold of."
The current director of music at Lighthouse Community Church, Dyce Kimura is well known for his individualized teaching methods that allow all students to succeed. When you sign up for Fort Lauderdale guitar lessons with Kimura, he helps students dive in right away by beginning with basic chords. As students progress, they are able to put these chords together to ultimately play their first song. Within just the first few months of their lessons, they will begin to learn the basic techniques for improvisation, allowing them to create their own tunes.
Miami guitar lessons with Dyce Kimura involve a range of guitar playing techniques and methods. Lessons will cover basic and advanced chords, scales, reading tabs and sheet music, learning songs, ear training, improvising, reading charts, and even songwriting. Kimura designs lesson plans that are tailored to the wants and needs of each individual student, incorporating not only student's current playing level but also their own personal goals, capacity for retention, and practicing regiment.
Along with his in-person guitar lessons in Miami, Dyce Kimura has been offering Skype guitar lessons to students across the globe. With Skype guitar lessons, Kimura is able to offer guitar lessons to students in any location, all from the comfort of their own homes. All that is needed to sign up for guitar lessons via Skype is an internet connection, a webcam, and a microphone.
Dyce Kimura is a music instructor based in Fort Lauderdale, FL who offers lessons via Skype for guitar, bass, and other musical instruments.
Contact: 786-457-3687
http://www.dycekimura.com