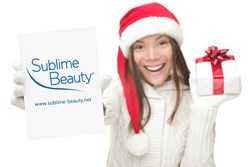 Lots of sales and choices, and 2 day shipping in time for Christmas. Amazon Prime members get free shipping.
St. Petersburg, FL (PRWEB) December 21, 2013
It is last minute Christmas gift time. There is still time to pick up gifts for men or women at Sublime Beauty®, with Amazon 2 day shipping to deliver in time.
A selection of popular serums or serums matched with jewelry in Christmas gift boxes with bows are a perfect gift to delight - and no gift wrapping necessary.
Sublime Beauty® makes it easy for fast choices with its Christmas Gift Guide page- all products are shown and link to Amazon, and there is a downloadable Gift Guide plus videos.
Popular gifts this season have been the two serum selection in a Christmas box (41% off); four serums in a quality travel case (32% off); and the pearl-braided necklace with Collagen or stunning "zebra" cuff bracelet matched with Retinol (37% off). There are 10 different jewelry choices for every style.
All natural body oil, travel skin brushes, Face Whisperer® creams and the Collagen serum are all popular products and great for gifts or stocking stuffers, too.
"We honor a guaranteed return policy, so gift-givers can buy with confidence," says Kathy Heshelow, founder of Sublime Beauty®.
Time is short but still remains to pick up those last minute gifts.