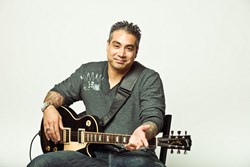 Miami, FL (PRWEB) January 21, 2014
Is learning to play guitar one of your New Year's resolutions? Dyce Kimura, a Miami guitar teacher, has the perfect deal to fit with your goal for 2014. For first time students who have made guitar lessons their New Year's resolution, Kimura is offering 40% off the first lesson when you sign up during the second half of January. Simply reference this article when you sign up to receive the discount.
When asked why he's offering this exclusive discount for the New Year, Kimura responded, "In my opinion, the New Year is a time for new beginnings and discoveries. I want to encourage first-time students to follow their passion and discover their talents by signing up for guitar lessons this January." A musician with over 28 years of playing experience, Dyce Kimura's Miami guitar lessons are well known for allowing students at all levels of experience to succeed.
To ensure that his lessons are tailored to meet the wants and needs of each individual student, Dyce Kimura uses a tried and true method for evaluating their current level and capacity for retention. Factoring in that student's personal goals and practicing regiment, Kimura is able to create personalized guitar lessons for each and every student he works with. These lessons include everything from basic and advanced chords to ear training and songwriting. Kimura also teaches students to read sheet music, tabs, and charts.
Kimura begins his Miami guitar lessons with basic chords, progressing on to playing full songs and ultimately enabling students to improvise and write their own songs. However, Dyce Kimura does not only teach students to play songs. He both helps students learn the songs they want to play and introduces other songs to demonstrate specific playing techniques. This method allows students to ultimately develop their skills more effectively and become better players.
In addition to his regular guitar lessons based in Miami, Dyce Kimura offers Skype guitar lessons, connecting with students across the globe. With Skype guitar lessons, any student who has a webcam, microphone, and internet connection can connect with Kimura and learn to play the guitar. Kimura has found that with modern technology, he can reach more students who come from a wide range of backgrounds and cultures.
To sign up for guitar lessons with Dyce Kimura and receive 40% off your first lesson, simply reference this article and your New Year's resolution to learn to play the guitar when you sign up.
Dyce Kimura is a music instructor based in Hollywood, FL who offers lessons via Skype for guitar, bass, and other musical instruments.
Contact: 786-457-3687
http://www.dycekimura.com/