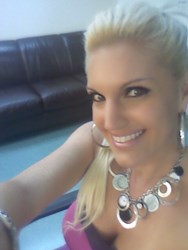 Aventura, FL (PRWEB) December 23, 2013
Integrative wellness just got a whole lot sexier at AAG Health. The Aventura wellness provider has announced the addition of "The Sexy Nutritionist" Jenny Patrizia to its marketing team. Ms. Patrizia, who is a psychologist, nutritionist and personal trainer, will play an integral role in AAG's mission to help men and women accomplish more in life.
"Jenny is a great personality to have on the team," says AAG Health CEO Mark White. "Her strong background in wellness is the perfect fit for our integrative approach to health. We can't wait for her to share her knowledge through videos, podcasts and other fun social media we have in store for 2014."
Known for her unique and fun nutritional approach, Ms. Patrizia has published numerous books in English and Spanish to help people eat sexy and get fit, including "Come Sexy, Pierde Peso" and "Juicy Life: A Guide to Healthy Living Through Juicing." Her efforts have earned her national exposure on television and radio; she makes regular appearances on Telemundo, Univision, Mix 98.3 FM and other major media outlets. Now, Ms. Patrizia intends to share her expertise in nutrition and fitness with the AAG Health family.
"I am very excited to have joined AAG Health since they truly care about their clients' well-being by providing them with a complete wellness program," says Ms. Patrizia. "Get ready, America! We are about to give you a tune up so you can go places you've never gone before!"
More information about The Sexy Nutritionist can be found on her Facebook page: http://www.facebook.com/sexynutritionist. Visit AAGHealth.com to discover how integrative wellness can change your life.
About AAG Health
AAG Health & Wellness is the leading nationwide provider of age management medical services that focus on hormone optimization. Founded in 2003 and headquartered in Miami, FL, AAG is a concierge-style medical practice that provides successful men and women cutting-edge treatment plans that deliver peak performance and improved quality of life. AAG Health has a network of over 20 medical health centers throughout the United States.