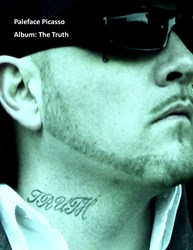 According to Paleface Picasso's label owner Travis Hickey, the song Rap God was made as a response of sorts to Paleface Picasso's Your Favorite Whiteboy. "And here is the proof!", says Hickey.
Muncie, IN (PRWEB) December 20, 2013
According to Paleface Picasso's label owner Travis Hickey, the song Rap God was made as a response of sorts to Paleface Picasso's "Your Favorite Whiteboy." 'And here is the proof!', says Hickey. The video was launched last December and currently has over 1.3 million views at a 90 percent like rate. Eminem's newest song "Rap God" seems to target the quick rising Paleface Picasso. Here are some clues showing that to be true. 'Its important to understand that Eminem switches back and forth between responding to the YouTube info, comments and his response that is dissing Paleface Picasso.', says Hickey
1. The song "Rap God" begins by saying:
'(You are just what the doc ordered)', RapGenius.com
'You are' clearly defines its against one entity and not a mass.
2. In the You Tube video "Your Favorite Whiteboy" ,Paleface Picasso is depicted in many scenes hitting a heavy bag at a boxing facility. In "Rap God" the word 'slapbox' is used multiple times in the hook. Here is the definition of slapbox according to urbandictionary.com:
'Slap box: To fight in a manner that you don't injure the opponent. Such as when you box with no gloves but instead of making fist you have a open hand. Another word is: Tap'
3. "Your Favorite Whiteboy" starts off,
'Simple math, Mr. Mathematical.'
"Rap God" explains Eminem has been blowing up the mic, making money, since Bill Clinton was in office. After which he says:
'Only realized it was ironic I was signed to Aftermath after the fact' RapGenius.com
The reference seems to reference that he wasn't 'Mr. Mathematical' before he was doing well and wanted to make that clear to Paleface Picasso that Dr.Dre signed him to Aftermath later on. 'Dr.Dre co-signing for him impacted his career greatly',according to Hickey
4. There is a line in "Your Favorite Whiteboy" that says:
'Eminem, your feminine, you cry (Wolf) when I Slaughter your House with venomous synonyms'
Eminem seems to respond by saying:
'Rappers are having a rough time period, here's a maxi pad
It's actually disastrously bad for the wack while I'm masterfully constructing this master piece (yeah), cuz'
This line is interesting because it seems to parallel the line from "Your Favorite Whiteboy", also note that the label Paleface Picasso is signed to is owned by Paleface Picasso's cousin. Hence the word: 'cuz."
5. Eminem seems to give advice to Paleface Picasso as well as others in this next verse. This is also the first time he talks about the church. This is important because Paleface Picasso expresses devote spiritualism in most of his music. Eminem clearly seems to take on the evil role and pass on the good role by saying:
'Everybody want the key and the secret to rap immortality like I have got
Well, to be truthful the blueprint's simply rage and youthful exuberance
Everybody loves to root for a nuisance, hit the earth like an asteroid, did nothing but shoot for the moon since
MC's get taken to school with this music cause I use it
As a vehicle to 'bus the rhyme' now I lead a new school full of students
Me, I'm a product of Rakim, Lakim Shabazz, 2Pac, NW.
A, Cube, Hey Doc, Ren Yella, Eazy, thank you, they got Slim
Inspired enough to one day grow up, blow up and be in a position
To meet Run DMC, and induct them into the motherf**kin' Rock n'-
Roll Hall of Fame
Even though I'll walk in the church and burst in a ball of flames'
6. These next lines seem very telling, as Eminem references the word 'boy', but seemingly replaces the word 'White' with 'looking.' This seems to reference "Your Favorite Whiteboy.". The word 'fags' seem to be pointed to Paleface Picasso and
his label/manager. (Paleface Picasso's label is active on promoting him on You Tube, etc. 'they' may refer to Eminem's fans, friends, and support system.) Eminem says:
'You fags think it's all a game, 'til I walk a flock of flames
Off a plank and, tell me what in the f**k are you thinking
Little gay lookin' boy
So gay I can barely say it with a straight face looking, boy
You're witnessing a massacre like you're watching a church gathering take place, looking boy
Oy vey, that boy's gay, that's all they say looking, boy
You get a thumbs up, pat on the back
And a "way to go" from your label everyday looking, boy
Hey, lookin' boy, what you say looking boy
I get a "hell yeah" from Dre looking, boy
I'm a work for everything I have, never ask nobody for shit, get outta my face looking boy
Basically, boy, you're never gonna be capable to keeping up with the same pace looking, boy cause', RapGenius.com
If you noticed Eminem also seemingly gives Waka Flacka Flames a compliment here.
7. Eminem then seems to reemphasize he is the 'God' of white rappers by saying:
'The way I'm racing around the track, call me Nascar, Nascar
Dale Earnhardt of the trailer park, the White Trash God
Kneel before General Zod this planet's Krypton, no Asgard, Asgard
So you be Thor and I'll be Odin, you rodent, I'm omnipotent', RapGenius.com
Eminem seemingly is responding that he is the 'favorite whiteboy'.
8. Paleface Picasso's mother died and he talks about that in the song "Long and Winding Road." Eminem seems to refer to himself as a figurehead for evil, possibly suggesting that he has her in hell.
'And I should not be woken, I'm the walking dead, but I'm just a talking head, a zombie floating
But I got your mom deep throating', RapGenius.com
9. Probably,Eminem's most telling line in the song "Rap God" is:
'I'm out my Ramen Noodle, we have nothing in common, poodle
I'm a doberman, pinch yourself in the arm and pay homage, pupil
It's me, my honesty's brutal', RapGenius.com
Eminem directly references Paleface Picasso's song lyrics. Paleface Picasso's song "Royalty" has a main hook saying: 'Pay Homage to the Paleface!' and the song "I'm the Man" says:, 'I'm one of the greatest admire my honesty'.
10. Eminem keeps referring in singular form "you", "your", "poodle", etc. Again,this seems to suggest all this is directed towards an individual not a mass like many seem to think.
11. Paleface Picasso's song "Your Favorite Whiteboy" has a sample from "Jedi Mind tricks: Army of Pharaohs" album, track called "Battle Cry." Paleface Picasso also has a song titled "Still On My Grind" and in the song "Royalty" says, 'the king is back from his pilgrimage.' So this line from "Rap God" seems to touch on all as a reference. Eminem also acknowledges that he is talking about an underground level artist by saying:
'I know there was a time where once I
Was king of the underground, but I still rap like I'm on my Pharoahe Monch grind'
12. Paleface Picasso called Eminem out about using kids in his songs to make money in the song "Your Favorite Whiteboy", as well as the info section on the YouTube video of "Your Favorite Whiteboy" Eminem references both being white and explains the kid comment here:
'So I crunch rhymes, but sometimes when you combine
Appeal with the skin color of mine, you get too big and here they come tryin'
To censor you like that one line I said on "I'm Back" from the Mathers LP 1 when I tried to say I'll take seven
kids from Columbine
Put 'em all in a line, add an AK-47, a revolver and a nine', RapGenius.com
13. Eminem says:
'Morphing into an immortal coming through the portal
You're stuck in a time warp from 2004, though
And I don't know what the f**k that you rhyme for, you're pointless as Rapunzel with f**king cornrows'
He seems to basically be saying whomever this is sounds old school and that he is bringing something completely new to the game. Also that he isn't sure what the person stands for. Once again this is a singular reference.
14. Eminem says:
'Let me know when it occurs to you while I'm ripping any one of these verses,
that versus you
It's curtains, I'm inadvertently hurtin' you Let me know, how many verses I gotta murder to
Prove that if you were half as nice, your songs you could sacrifice virgins too'
Eminem seems to suggest he is going at one individual and he is hurting that person, but no one will know it. Basically, Eminem seems to think everyone else out there is too dumb to figure this all out. He also seems to make reference that he likes the lyrics, but doesn't think Paleface Picasso can keep up.
15. Interestingly enough, Eminem seems to address the comments about him battering women as mentioned in the You Tube video info section of "Your Favorite Whiteboy." He also references good verses evil again by saying:
'But in my head there's something I can feel tugging and struggling
Angels fight with devils and here's what they want from me
They're asking me to eliminate some of the women hate, but if you take into consideration the bitter hatred
I had Then you may be a little patient and more sympathetic to the situation and understand the discrimination', RapGenius.com
16. The final line of "Rap God" says:
'Why be a king when you can be a god?'
This line seems to point to a line in the song "Royalty" by Paleface Picasso, 'The king is back from his pilgrimage'
These are just a few of the examples woven into the song "Rap God", according to Hickey. Do some research and find out for yourself. http://www.palefacepicasso.com