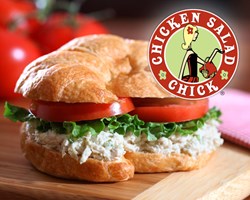 Atlanta & Athens, GA (PRWEB) December 26, 2013
Chicken Salad Chick, the nation's newest, fast-casual restaurant concept, officially announced today the addition of 12 future franchises in the Atlanta and Athens areas, with the first opening projected for July 2014.
"We are so excited to bring the Chicken Salad Chick experience to the Atlanta area, and to Athens as well," said Kevin Brown, president of Chicken Salad Chick. "We are confident that these locations will enrich the growing CSC community across the Southeast."
Owners Chip Patterson, Chris Damico, Stephen Polhill and Scott Pressly of PDP Ventures, LLC are set to open a total of 12 locations starting in summer 2014. "Chicken salad is a staple in the south. People are looking for something simple, fresh and delicious...and Chicken Salad Chick has it!" states owner Damico.
"Stacy and Kevin have created a wonderful concept that is equally exciting for consumers and franchisees alike," adds Pressly. "We are excited and proud to be part of the Chicken Salad Chick family and look forward to opening our first of many stores in the greater Atlanta market."
"Kevin and I have been overwhelmed with the desire for people find a home for Chicken Salad Chick in their own communities," said Chicken Salad Chick Founder Stacy Brown. "It is so encouraging that great people like the men of PDP Ventures want to share our concept and passion with those in their area."