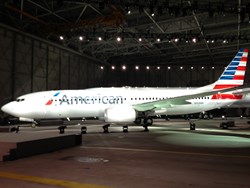 We're All About Dock-To-Dock, Around-The-Clock Aircraft Parts
Tulsa, OK (PRWEB) December 20, 2013
Commercial aircraft parts distributor First Wave Aerospace was launched with excess inventory purchased from American Airlines over two decades ago and today sees a great parallel in its renaissance with the airline that has its main maintenance base just a few miles from First Wave's warehouses and offices.
"The history and present turnaround conditions of First Wave and American Airlines are interwoven and we're very proud of the business relationship and ongoing turnaround of both Companies," Tony McAnly, President, First Wave Aerospace, said recently upon American's merger with US Airways to become the world's largest airline as it exists bankruptcy. "Like American Airlines, First Wave will end 2013 with a new ownership/management structure with bright future prospects on the horizon in 2014 and beyond."
First Wave was founded in Tulsa in 1992 with excess inventory purchased from American Airlines' Tulsa Maintenance facility and has grown into an approved and loyal supplier to American Airlines over the years for spares and urgently needed parts. First Wave's close proximity to American's facility in Tulsa has served both organizations well over the years, as they have both experienced the ebb and flow of the dynamic commercial aerospace industry together.
American Airlines operates one of the largest maintenance bases in the world with a current workforce of 6,250 Tulsa employees, who went to work for a new boss as of Monday Dec. 9, as the company merged with US Airways and emerged from two years of bankruptcy. The two airlines officially merged to create the world's largest airline 10 months after American Airlines and US Airways agreed to combine and more than two years after American Airlines' parent company, AMR Corp., filed for bankruptcy. The new company is now known as American Airlines Group Inc., trading under the AAL ticker symbol on the NASDAQ
Glen Hyden, Vice President & General Manager of First Wave Aerospace, said the long-term well being of American Airlines is undeniably a key factor in his firm's future business plan and many others in the Tulsa community and the aerospace industry.
"A former CEO of GM said in the 1950s what is good for GM is good for America. Well, a similar analogy could apply to the relationship with First Wave and American Airlines and a lot of other suppliers to American," Hyden said. "What is good for American Airlines is good for First Wave, Tulsa and lot of aerospace suppliers.We congratulate American Airlines on its turnaround and are glad to be a part of it in on our ongoing support of a great customer and corporate citizen of our community."
Tim White, Vice President, Inventory Development, First Wave Aerospace, said his firm maintains a delivery truck primarily to make quick deliveries of parts to American's Tulsa Maintenance Hangar and goes the extra mile to support its neighbor when in need. If First Wave does not have a part in its vast inventory of 6.8 million parts that American Airlines needs, it has dedicated personnel available around the clock to find, purchase and deliver the parts to the American dock."We're all about dock-to-dock, around-the-clock aircraft parts when it comes to American Airlines."