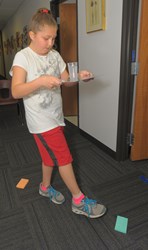 especially liked interacting with others, practicing each test item and scoring, that it was a practical, informative, and a research-based assessment
Denver, Colorado (PRWEB) December 20, 2013
The Sensory Processing Disorder (SPD) Foundation announces that it has begun to provide workshops throughout the United States to train therapists in the administration and scoring of Dr. Lucy Jane Miller's new "Goal-Oriented Assessment of Lifeskills" (GOAL); an innovative new evaluation of functional motor abilities needed for daily living in children ages 7-17.
The first workshop, conducted on December 9 in St. Johns, Michigan, was much anticipated and very well received. "Excellent, helpful, educational, inspiring" and "videos were clear, impactful, and appropriate" and "especially liked interacting with others, practicing each test item and scoring, that it was a practical, informative, and a research-based assessment," were just some of the comments from the Michigan workshop attendees.
Attendees complete the activities in breakout groups while learning to administer and score the evaluation. Each activity is linked to Intervention Targets that help therapists turn assessment results into a specific, goal-oriented treatment plans. The GOAL is useful in schools, clinics, hospitals, and private practice. It is intended primarily for occupational therapists but can be used by psychologists, physical therapists, and other childhood intervention specialists.
This workshop provides step-by-step instruction for administration and scoring of each item in the "Goal-Oriented Assessment of Lifeskills", an individually administered screening test for identifying potential developmental delays in children ages 7 to 17.
In just 45-60 minutes, children who may have developmental delays in any of the fives domains defined by IDEA (Individuals with Disabilities Education Act) can be identified, informing planning of occupational therapy, physical therapy, and/or adaptive physical education.
SPD Foundation is creating the plan and schedule to conduct these workshops throughout the United States in 2014. For information on attending or hosting a GOAL workshop, contact Susanne Geiler at info(at)spdfoundation(dot)net.
ABOUT SENSORY PROCESSING DISORDER FOUNDATION
The Sensory Processing Disorder (SPD) Foundation, a Colorado 501(c)(3), is the world leader in research, education, and awareness for Sensory Processing Disorder, a neurological condition that disrupts the daily lives of more than 4 million Americans. The SPD Foundation offers educational programs, conducts SPD research, and provides resources for parents worldwide. Dr. Lucy Jane Miller, widely recognized as a leader in SPD research worldwide, founded the SPD Foundation in 1979. The SPD Foundation provides hope and help to individuals and families living with SPD. For more information, visit SPDFoundation.net or call 303-794-1182.