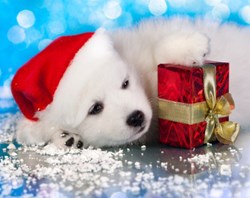 Santa Clarita, CA (PRWEB) December 20, 2013
Nearly 50 percent of dog and cat owners will purchase a gift for their family pet, according to 2013-2014 APPA National Pet Owners Survey. To help pet owners and family friends find that perfect last-minute gift for their furry companions, Animal Behavior College (ABC) presents dog and cat gift guides in the December issue of "Petropolitan."
ABC asked pet experts Stacy Mantle and Sandy Robins to select their top gifts for dogs and cats this holiday season. The dog guide's product assortment ranges from cool toys to handy totes for owners on the go, and the cat guide features interactive toys and nature-inspired cat trees. Conscientious shoppers will find something to fit budget as the prices range from an economical $5.99 to splurge-inducing $1,200.
Stacy Mantle is the founder of PetsWeekly.com and is also the bestselling author of the fantasy novel "Shepherd's Moon." For more information about Stacy, please visit http://www.StacyMantle.com.
Sandy Robins is a regular contributor and columnist in multiple national and international publications, including "Cat Fancy." She is also the author of the award-winning books "Fabulous Felines: Health and Beauty Secrets for the Pampered Cat" and "For The Love of Cats." Additional information about Sandy can be accessed through her website http://sandyrobinsonline.com/.
"Petropolitan" is ABC's consumer-oriented e-newsletter, which offers advice, fun tips and product reviews on a monthly basis to pet enthusiasts everywhere. Anyone can subscribe to the free newsletter by visiting ABC's website at http://www.animalbehaviorcollege.com.
###
Animal Behavior College, founded in 1998, is a vocational school that specializes in animal-related career training. The school's unique structure incorporates a distance-learning and hands-on externship-training model. ABC offers programs for certified dog training, pet grooming and veterinary assistants in all 50 states and every Canadian province, making it the largest vocational school of its kind in North America. For more information, visit our website at http://www.animalbehaviorcollege.com or call 886-507-9874.