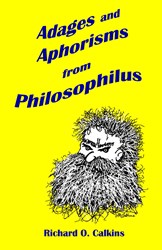 Young men are full of energy and impatience. They just can't wait to get out there and set the world on fire. Older, more experienced men have learned that the world does not want to be set on fire. Philosophilus
Sammamish, Washington (PRWEB) December 21, 2013
The new collection, "Adages and Aphorisms from Philosophilus," contains the "philosophical musings of a curmudgeonly philosopher of the old Athenian school." Richard Calkins penned the work, which reads as though it came directly from a skeptical Athenian philosopher, evaluating modern and classical phenomenon. Readers can find the latest book from the author of "Relativity Revisited" on Amazon.com, barnesandnoble.com, and from other low cost booksellers.
True to its title, "Adages and Aphorisms from Philosophilus," offers pithy words of wisdom from Philosophilus, the curmudgeonly Greek philosopher who is channeled by Richard Calkins. Often amusing and always insightful, these adages will keep readers thinking long after they've closed the book. Philsophilus' topics range from human nature, politics, gastronomy, medicine, commerce, and even cosmology. The collection also contains a number of clever illustrations, all drawn by Calkins.
The author of "Adages and Aphorisms from Philosophilus" evaluates life with a blend of philosophy and skepticism. He states, "It is part of the human condition that everything we know is hostage to our assumptions. Some of our assumptions are explicit. We have the opportunity to assess their validity and correct them. Others are implicit. They not only are unknown but remain unexamined. To open our minds and broaden our perspective, we occasionally must excavate all of our assumptions and give them a good dose of sunlight and fresh air. It also wouldn't hurt to shake them up a bit with a good swift kick."
This is Calkins' third work. His first book, "Relativity Revisited," reviews Einstein's theories of relativity, ultimately proving that both theories of relativity are invalid. "Relativity Revisited" also questions the idea of quantized energy, including the photon, demonstrating that this concept rests on a theoretical foundation that is inconclusive. Calkins' second book discusses drawing and the power of the line. Excerpts from "Relativity Revisited" and a gallery showing some of Calkins' drawings are available on the website at calkinspublishing.com.
About Calkins Publishing Co. LLC:
The Calkins Publishing Company presents books that offer a different perception of the things we take for granted. Our goal is to provide new insights on such subjects as art, sciences, philosophy, religion, government and the human condition. Not surprisingly, our publication trade name is A Different Perception.