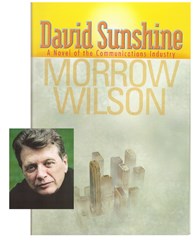 filled with the details of life in the 1960s
New York, NY (PRWEB) January 28, 2014
When novelist Morrow Wilson opened the envelope containing his latest royalty check for his new novel, David Sunshine, he was amazed to see the accompanying statement showed a preponderance of e-book purchases.
"This does not indicate the usual demographic of book readers you would expect for a novel set in the television industry of the 1960s," says novelist Morrow Wilson, whose credentials include work as both a staff and freelance editor as well as serving as CEO of two small presses.
" Usually the readers of fiction are mainly women and men of a certain age and beyond. That is the standard description of habitual book buyers."
David Sunshine, which deals with a television industry that one FDC Chairman referred to as a "vast wasteland," was first written in the late 1960s and made the rounds of publishers who -- while highly entertained by true anecdotes of a fictional young television novice in conflict with a tyrannical TV celebrity -- demurred publishing a satire coincidentally written by the first associate producer of the prominent talk show hosted by the influential David Susskind, and which also satirized the top brass at CBS.
"Truth is the major defense against libel actions, but who wants to go to court?" asks Morrow Wilson rhetorically, "particularly book publishers who are a profoundly timorous lot."
"Before, David Sunshine was funny and dangerous. Now, at least it's safe," says Morrow Wilson with a certain wry humor. "The fools and knaves of those bygone days are gone, too. And my contemporary novel has aged into historical fiction."
Though well-publicized for nearly a year on broadcast and satellite radio, the websites of prominent newspapers that include Newsday, The Boston Globe, The Miami Herald, The Cincinnati Inquirer, The San Francisco Chronicle, The Sacramento Bee and many others as well as in a series of on-going social media campaigns on YouTube, LinkedIn, GoodReads, WordPress, Facebook and others, David Sunshine has quite suddenly found an audience among people who were not even born during the time it describes. Why now?
Says Morrow Wilson, "I'm only guessing, but it looks as though it has taken this long for the younger fans of the Mad Men era to discover David Sunshine. The 1960s was a time with its own brand of glamour and cool and optimism that's almost unimaginable today."
David Sunshine is written in the spirit of Dickens and Mark Twain, writers who skewered mindlessness and hypocrisy, and did it with great energy and humor. The novel is funny, heart-breaking at times and even encouraging; it is filled with the details of life in the 1960s as well as the foibles and blunders of that era's media movers and shakers.
"I welcome this new audience," says Morrow Wilson. "I hope they find David Sunshine's retelling of the 1960s as nourishing as The Great Gatsby's tale of the 1920s. That's what I'm shooting for."
http://davidsunshinethenewnovel.com
regaleaglesnest(at)live(dot)com