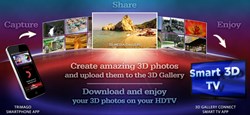 3DMedia's ecosystem will fuel the growth of 3D market
Research Triangle Park, NC (PRWEB) December 20, 2013
3DMedia announced today the completion and release of its 3D Ecosystem that enables users to easily capture, create, and share their personal 3D content. Growth of the 3D market has been slow due to lack of high-quality, easily accessible 3D content. Although the majority of high-end HDTVs today are Smart and 3D capable, there are are no compelling reasons for consumers to engage with 3D. With the introduction of new products and services, 3DMedia has created an Ecosystem consisting of smartphone and Smart TV apps, PC tools, and the cloud, enabling users to engage with 3D at a personal level to enjoy an intimate and immersive experience of their own lives and moments. 3DMedia believes that 3D is next transition in content presentation similar to the transitions from black-and-white to color, then to HD. 3DMedia's 3D Ecosystem consists of:

Trimago which is a smartphone app that allows users to capture and create their own 3D photos with a single button press.
The 3D Gallery which allows users to easily upload, download, and share their 3D photos, and is the cornerstone of all products and services.
3D Gallery Connect which is a Smart TV app that connects to the 3D Gallery and allows users to access their personal 3D photos as well as professionally created 3D content.
3D Composer PRO which is the most advanced 3D editing tool on the market, with 3D object editing capabilities to compensate for movement between photos and edit 3D models.
ViewFusion patented technology that can be licensed to consumer electronics manufacturers to create 3D-enabled smartphones and cameras capable of capturing 3D photos and video.
Since their introduction, 3DMedia's apps have enjoyed an overwhelming response, with hundreds of thousands of users and several million 3D photo views. "Our success indicates that consumers have a clear interest in engaging with 3D," said Tassos Markas, President and CEO of 3DMedia. "We believe we have created the most compelling reason for consumers to engage with 3D. All our products and services are seamlessly integrated to facilitate delivering great content to users." More information is available at 3dmedia.com.
About 3DMedia
3DMedia Corporation develops technologies to create, view, edit, and share 3D content. 3DMedia's technologies address the problem of 3D content generation, which is by all accounts the biggest obstacle to consumer adoption of 3D. These 3D technologies are available for licensing and incorporation into consumer products such as cameras, mobile phones, HDTVs, and PCs. By providing users with the means to experience and control high-quality 3D content, 3DMedia's technologies are a key enabler for the proliferation of 3D products in the consumer market.