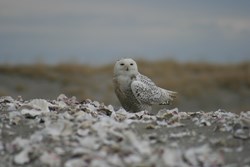 Visitors from throughout the Northwest and beyond are catching on to the extraordinary bird watching opportunities we enjoy here [on the Long Beach Peninsula]
LONG BEACH PENINSULA, Wash. (PRWEB) December 20, 2013
Local birding enthusiasts are reporting spectacular sightings of birds on Washington's Long Beach Peninsula in December. Among the many recent and varied sightings, winter-resident Trumpeter Swans have been seen on Ilwaco's Black Lake and, at the northern tip of the 28-mile-long peninsula, Snowy Owls have been confirmed at Leadbetter Point, part of the Willapa National Wildlife Refuge.
"More visitors are asking about winter birding tips and spots than in previous years," said Andi Day, executive director, Long Beach Peninsula Visitors Bureau. "Birding is already a favorite pastime with many residents; now visitors from throughout the Northwest and beyond are catching on to the extraordinary bird watching opportunities we enjoy here."
Owls, raptors and swans are among the sought-out, winter birds. Nature and bird observer Suzy Whittey recommends adding the many shorebirds, including Dunlins, to one's winter watch list.
Whittey, who organizes the Long Beach Peninsula's annual Christmas Bird Count slated for Dec. 21, says more news on winter bird watching will be available following this year's count.
The Willapa Hills Audubon Society has announced additional regional Christmas Bird Counts on Dec. 29 and Jan. 1. For details, please access http://willapahillsaudubon.org/.
On January 11, 2014, the Friends of the Willapa National Wildlife Refuge will present "Birding 101" with Ben Welton, aka "The Burd Nurd." The event starts at the Long Beach PUD (9610 Sandridge Road, Long Beach) at 9AM and moves by carpool to Oysterville Sea Farms (34300 1st Street, Oysterville) at noon. For additional information, please contact Ben at 360.466.4749 or email divrdux@isomedia.com.
In addition, Shoalwater Birders host field trips on the fourth Saturday of each month that take members and visitors to favorite local birding spots on the Long Beach Peninsula and in the surrounding area. For additional information, please access http://shoalwaterbirders.com.
Winter Bird Watching on the Long Beach Peninsula
With several distinct eco-systems in a span of 28 miles, the Long Beach Peninsula includes Pacific Ocean seashore as well as marshland, lakes, inland waterways, wetlands, the Columbia River and Willapa Bay. Hundreds of species of birds migrate here each fall.
Winter flocks consist mostly of Sanderlings, Dunlins, Black-Bellied Plovers and a few Western Sandpipers, and a spattering of Marbled Godwits. Peregrine Falcons are numerous and Merlins often sighted. In years' past Snow Buntings have been seen at Leadbetter Point. Numerous sea ducks, grebes and loons can be observed along points on the Cape Disappointment State Park jetty, Coast Guard boat basin/launch and various points along Willapa Bay. Western Screech Owls and Great Horned Owls might be heard calling in the Seaview bluffs. Gulls are numerous, always with the chance of seeing an unusual species. Trumpeter Swans overwinter on Black Lake and Hines Marsh. For updates on winter birding in the refuge, please monitor http://www.facebook.com/willapaNWRcomplex.
About Southwest Washington's Long Beach Peninsula
With its mix of sensational restaurants, fresh seafood, ocean-view lodging, colorful festivals, unique museums, landmark lighthouses, easily accessible trails, birding spots, state and national parks, and, above all, its long, wide, windswept beach, the Long Beach Peninsula continues to be one of the Northwest's most enjoyable and refreshing coastal destinations. For more information, please access http://www.funbeach.com or call the Long Beach Peninsula Visitors Bureau at 800.451.2542.
# # #