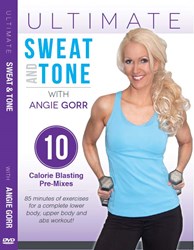 Workouts For Busy People
(PRWEB) December 21, 2013
Get ready to sweat. Angie puts a new spin on old moves. The leg tap series combines cardio and toning at the same time which will have the legs SCREAMING by the end of this series. Angie has some of the best tricep and inner thigh exercises, utilizing isometric movements along with high-rep and low weight, for a complete upper body burn. The DVD has 10 various premixes consisting of 5 short and long workout combinations. The lower body calorie torcher is a challenge for the most advanced exerciser. Although the exercises are advanced, Angie shows modifications for the beginner/intermediate level as well. Check out a clip of the workout here: Ultimate Sweat and Tone Clip.
What makes Angie unique? Angie has struggled through thyroid and back issues, including bulging/herniated discs, mild scoliosis and slipped ribs. Angie is a certified fitness instructor, but also works full time at a desk job, and is also a mother and a wife. Angie isn't one of those fitness models screaming from inside the TV claiming that doing the video will transform anyone into a supermodel. Angie is a breath of fresh air. She understands the busy woman and all the struggles they face, because she is one herself. Angie uses positive reinforcement and strikes the perfect balance between being motivational, yet not overly pushy. Working out at home requires different motivation than working out in a gym, and Angie realizes that. She specifically targets her motivation to the home exerciser to encourage them to finish those last tough sets. Learn more about Angie here: Angie Gorr.
Equipment needed: A workout mat, some light weights, and a step which is optional for added intensity.
Absolutely one of the best workout total body and effective exercise videos on the market today.