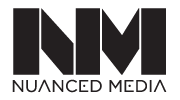 "Knowing what your company wants from SEO and working with the right Internet services firm on SEO technology is crucial to a company's website design." Ryan Flannagan, CEO Nuanced Media
Tucson, AZ (PRWEB) January 02, 2014
A well designed website is a hugely important asset for any new company. However, for those who aren't experts in the field, it can be a difficult process to navigate. Aside from knowing the tech jargon, simply knowing the level of detail to be included in an RFP is crucial to ensuring that design and development are as painless as possible.
Nuanced Media is in the business of website design, development, and marketing. They understand that most people simply aren't aware of what it takes to develop a website in its entirety. As a result, they sought to outline some of the most important information to include in an RFP in order to assist anyone who may be in the market for a new or updated website.
Nuanced Media founder Ryan Flannagan knows that a quality website design is crucial to getting the best results. "Knowing what your company wants from SEO and working with the right Internet services firm on SEO technology is crucial to a company's website design," Flannagan said.
The team at Nuanced Media highly recommends a thorough analysis of five key elements. These include knowing exactly how much you can spend, spending extra time making sure your vision is clearly articulated, outlining specific deadlines, doing research so you can effectively communicate with potential designers, and incorporating visuals where possible (even if your artistic skills leave something to be desired) to lessen confusion. The brief explanations in the post are a great starting point for anyone starting on or sending out RFPs.
About Nuanced Media
Nuanced Media is a digital marketing and graphic design firm. The company specializes in strategic, multilayer marketing campaigns and efficiently crafted, user-friendly websites. Based in Tucson, the company has a variety of clients throughout Arizona, California, and Texas. For more information, please view Nuanced Media.